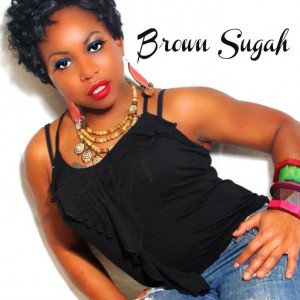 Sugah Lyrics also known as Brown Sugah is making a splash with a slew of new release upcoming both on Night Scope Records and Cyberjamz Records.
Puchase release "I need to Dance" (El's Sacred Earth Mix)
http://bit.ly/11zjwpj   – I-Tunes
http://www.cdbaby.com/cd/sugahlyrics    – CD Baby
Black Man – Brown Sugah – (Mixes by Deep Elementz ) – Cyberjamz  –  http://bit.ly/uS6ZsV
Corners of my Mind (Incl. Mixes by DJ Elementz,John Crockett and Serge Negri) – Brown Sugah – Cyberjamz  –  http://bit.ly/RgDnFg
coming soon!
"So Sweet" – Sugah Lyrics feat. Deep Elelemts – Sugah & Deep – Night Scope
"Cinnamon Completed" – Sugah Lyrics – Night Scope Records.
Tune in this coming Saturday Jan 19 2013 for an exclusive interview with Sugah Lyrics at the Cyber-Artist Showcase from 2pm – 4pm est. – Cyberjamz.com
Bio and info
http://www.cdbaby.com/Artist/SugahLyrics
Born in Brooklyn, NY Sugah Lyrics has been a dancer on the house music scene for nearly 20 years. She has danced at such venues as Body and Soul, Shelter, Sound Factory, and a regular at outdoor venues like Coney Island Boardwalk since its inception in the early 90's….Sugah Lyrics started writing poetry in college and hasn't stopped since. She has performed at many venues, and various poetry cafes
around the city since the mid 90's such as Sister's Place in Brooklyn, Sugah Shack and the Shrine world music venue in Harlem NYC just to name a few. Sugah Lyrics would normally infuse her poetry with jazz and neo soul, but in 2007 a friend recommended she record her sultry voice over house music, it only made sense because she has spent more than half her life dancing to this genre of music. Sure enough the song became an underground hit called "BLACKMAN" where she paid homage to "all" her ethnic brothers and their particularly unique struggle. It received an overwhelming positive response.
After a 5 year hiatus from the poetry scene, Sugah Lyrics could not ignore her passion for writing any longer. In late 2009 she was scheduled to perform at a venue and it was cancelled. Sugah Lyrics was disappointed but after renewing her commitment to her art she decided to create her own venue. She is the creator and one of the original Co-founders of Microphone Fiends a monthly open mic venue that is still operating today in Harlem NYC. After a year of Microphone Fiends, Sugah Lyrics decided to move on and seriously pursue her passion as a spoken word recording artist. Blackman was officially released in 2011 on Cyberjamz Records and the rest as they say is history.
To date Brown Sugah has had 3 releases BLACKMAN, I NEED TO DANCE, AND CORNERS OF MY MIND. All of them are very different stories. "I have so many stories to tell I try to be versatile with every song". You will get to know a different side of this artist thru every song. She has currently performed at Sapphire lounge in NYC, Ideal Lounge in New Jersey for the CYBERJAMZ' 8TH anniversary celebration, and at the 2012 CYBERSLAM at the infamous WINTER MUSIC CONFERENCE in Miami. More than just another fly by night poet Brown Sugah is a writer and a lyricist. "Writing has been a part of my life for many years I am in love with words".
Sugah Lyrics
Facebook:
https://www.facebook.com/Sugahlyrics?fref=ts
Deep Elementz