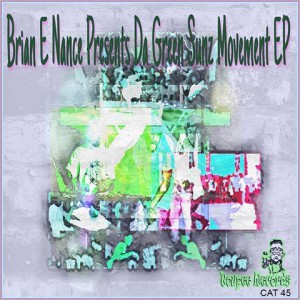 Cat#Toupee045
Release:Da Green Sunz Movement E.P
Arsit: Brian Nance
Label:Toupee
Release date Dec 23,2016
This is another Hot E.P Alert by Brian Nance,This time this talented deep house and obscure producer presents to us "Da Green Sunz Movement E.P",a unique look and feel into the world of BrianTech. This E.P offers different genre's from Chicago/Detroit deep to afro-tech and even a touch of soulful in some instances. We had a hard time trying to figure out which one of these pieces stood out and came to the conclusion that they ALL are great in their own right !
So pick up this gem and play it loud !
The tracks with a * next to them are our favorites off this pacakge
Tracklisting:
*1)Feeling Lovez Energiez (7:19) Souful,afro,tech.? which is it?? all the above !
*2)Twilite Rucurrencez (7:12) This track here is our pick off this E.P. Take a trip down the deep underground with dreamy keys and sporadic vocals layered throughout makes this one a favorite
*3)Bronx Bionic Zulu Beat (7:15) Deep down NYC old school drums with a touch of Detroit. ya can't go wrong with this or any cut off this E.P.
4)Another Time Came (8:03) – Slammin beat down here !
5))Da Dark Crystal Holderz (7:17) Deep n Dark with a touch of tech,just the way we love it !
6)Reprogrammed Street Codez (7:17) This is for those that like it obscure without loosin it's deepness.. Wicked !
all tracks produced by Brian Nance.
copyright: NANCE BRIAN ELLIOTT (BMI) 2016.
Cover Art Design by Garnetjade – garnetjade@gmail.com
Pick up "Dark Sunz Movement E.P" http://bit.ly/2aeSqyM
Da Parsec Invaders 2 E.P – Brian Nance
out now http://bit.ly/2eie583
I Have Never (The Brian Nance Deeper Dub Mixes) out now
http://bit.ly/2dRoYCp or http://bit.ly/2eroH7P
http://m.traxsource.com/label/25655/feltsonix/
http://m.traxsource.com/label/11278/tech22/
https://m.mixcloud.com/briannance98/
https://www.beatport.com/search/releases?q=tech22
https://m.soundcloud.com/brian-nance22-briantech22
Facebook & Contact:
https://www.facebook.com/brian.nance.98