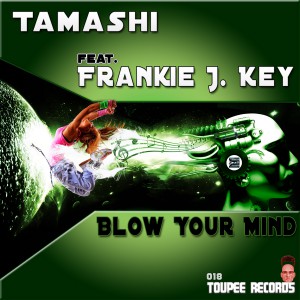 Cat # Toupee018
Artist: Tamashi feat. Frankie J.Key
Release: Blow your Mind
Label: Toupee Records
Target Release Date November 2014.
Tamashi and Frankie J join forces for "Blow your mind", a track that will do exactly what its title suggests… Quite simply, the deeper than deep utterly hypnotizing afro-percussive rhythms together with the killer jazzy organ and empyreal synth melodies are guaranteed to jam-pack the floor… Beside the 'Afro Key Mix' and 'Afro Dub Mix', the release features the 'Dark Mix' and 'Dark Trumpet Mix' which give the track a moodier somewhat dark feel perfect for late night play.
Review by Mike Fossati of Spirit of House
Tracklisting:
1)(Afro Key Mix (6:51)
2)Afro Dub Mix (6:18)
3)Dark Mix (6:24)
4)Dark Trumpet Mix (6:24)
All tracks produced by Tamashi & Frankie J.Key
Blow Your Mind
Writers info:
music by Andrea Garibaldi and Francesco Brandolini,


Credits:
Produced by Tamashi
Piano and Hammond by Frankie J.Key
Recorded, Edit and mixed by Tamashi @ Tamashi Suite.
Mastered by Tamashi @ Tamashi Suite
Cover by JorgeG Graphix
Another  La gata de fuego Joint 2014.