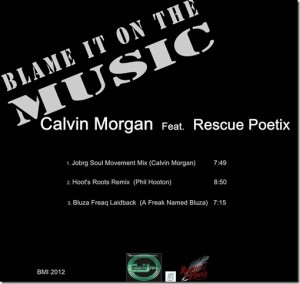 The Long awaited "Blame it on the Music" – Calvin Morgan feat.RescuePoetix™ (Incl Mixes by Calvin Morgan,Phil Hooton & Bluza Freaq .
It's out now !!
Blame it on the Music – Calvin Morgan feat.RescuePoetix™
http://lnk.sr/11vh
Cat# CJ114
Blame it on the Music – Calvin Morgan feat.RescuePoetix™
Cyberjamz Records – Release date TBA.
"Blame it on the music" lays out the story between dancer and music, the change when the dancer "leaps from the silence into the rhythms of House". There is an awakening of the spirit when the dancer connects to the music. This is what guides the dancer from one step into the dance, one rhythm into the song, as the story evolves from bits of all the souls who share the same story and the dance floor. Nothing is a barrier, not even language. "Easy movement to notes laid across the floor for us to find" is the path we follow into the music.
Once the music takes over, there's nothing left but to follow it. Even when we leave the dance floor "we take bits of stories when we go" until the next movement, the next song, the next dance floor. The relationship between dancer, dance floor and music is an ever evolving and changing story of intimacy that can't be found anywhere else.
Calvin Morgan featuring Rescue Poetix "Blame it on the music" (CyberJamz Records)
Renowned CyberJamz Records grace us with "Blame it on the music" produced by Calvin Morgan and performed by Rescue Poetix. This breath-taking production is all about the inimitable spoken word poetry by Rescue Poetix, deep minimalistic yet spell binding rhythms and atmospheric synth melodies. Phil Hooton reworks the track into a mesmerizing afro-deep affair laced with exhilarating synth melodies and sublime piano, and Bluza Freaq drop a genuine underground-esque rendition sure to set the floor on fire.
Michael Fossati  – Spiritofhouse.com
Produced by Calvin Morgan
Performed by: Rescue Poetix™
Original piece written by : Rescue Poetix™
RescuePoetix BMI 2011
Track 1  produced,arranged and mixed by Calvin Morgan
Track 2  produced,arranged and mixed by Phil Hooton
Track 3  produced,mixed and arranged by Bluza Freaq
Booking and info contact
https://www.facebook.com/RescuePoetix
Calvin Morgan
https://www.facebook.com/calvin.morgan.395?fref=ts
Artwork: Jorge G
Mastered by Hippie Torrales & Sammy Rock @ Coyote Studios Tampa,Florida
A & R Soul-Cat for Coyote Entertainment