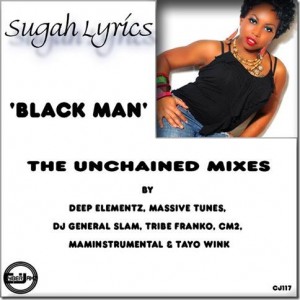 Brown Sugah aka Sugah Lyrics returns with a mission,this time armed with HOT producers that elevate the famous "Black Man" piece.This one is for the books !
Cat # CJ117
Sugah Lyrics
Black Man – The Unchained Remixes
(Inc. Mixes by Deep Elementz,Cm2,Massive Tunes,Tayo Wink,Maminstrumental,Tribe Franko & Dj General Slam)
1)El's Dance Warrior Mix (6:24)
2)Cm2 Unchained Remix (6:20)
3)Massive Tunes Remix (6:49)
4)Tayo Wink Tribal Essence Mix (7:01)
5)Tayo Wink's beat-a-pella Mix (6:33)
6)Maminstrumental DNY Remix (5:59)
7)Tribe Franko Chillout Scene (5:33)
8)DJ General Slam Radio Edit mix (5:00)
9)Unchained Black-a-pella (2:07)
Produced by Sugah Lyrics & Deep Elementz
Credits:
Track #1 Mixed, Arranged and Produced by DJ Elementz
Night Scope Deep Music (ASCAP) 2012
Track #2 Produced,arranged and mixed by Cm2 – South Africa
Track #3 Produced by : Brighten Sikhweni – Massive Tunes
Executive Producer: Katlego Nombewu
Mixed @: SABC Pro Tools Studios
Tracks #4 & 5 produced,arranged and mixed by Tayo Wink
Coyote Studios Fl.
Track #6 REMIX BY MAMINSTRUMENTAL FOR DNY MUSIC
Keyboards, strings and Mastering : FRANCESCO COTARDO,Italy
Track #7 is Produced by: Frank Mabaso – Tribe Franko Remix
Mixed @: Kultured Music Studios
Twitter: @Tribe_franko
Track #8 Produced by: Katlego Nombewu – DJ General Slam Remix
Mixed @: Gentle Soul Recordings
Final Mixing: SABC Pro Tools Studios
Twitter : @DeejayGeneral
Licensing & Booking info contact:
Brown Sugah – Sugah Lyrics
https://www.facebook.com/sugah.lyrics.7?fref=ts
Another Soul-Cat Production for Coyote Entertainment 2013.
Coyote Entertainement (ASCAP) 2013 and Nitescope Deep Records (ASCAP) 2012