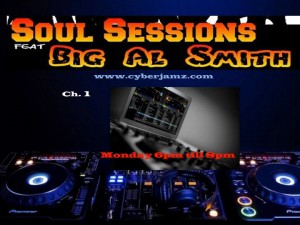 Big Al Smith presents Soul Sessions, every 2nd, 3rd and 4th Monday nights 6:0pm – 8 pm  est
Bio- Big Al Smith
The great loves of my life has always been music and dancing. I started DJing in New York City in 1989.  I grew up partying in some legendary clubs, such as, Paradise Garage, Tribeca's, Bentley's, Zanzibar, Studio 54, Bonds International and Shadows, just to name a few.   DJ Reggie Smith taught me the fundamentals of mixing and blending. I moved to New Jersey in 1992 and began working with Discotizer Productions, a well-known DJ Company from Plainfield, NJ. We played regularly for many large corporations, political, social groups and venues including "The First Fridays Group" and Bridgewater's at the South Street Seaport in New York City.
Over the next four years I perfected what I learned and became a true Professional Disc Jockey. In 1996, I decided to go out on my own and form Prime Time Entertainment LLC (PTE). PTE serves a multitude of clients in New York, New Jersey, Pennsylvania and Delaware. As president and primary DJ of the company, I perform at most of the e the events alone or with my partner Darrell King aka DJ D-Nice or make sure that if someone else performs, that person is well prepared and able to do a great job.
I have played with many talented DJs; DJ Reggie Wells, Lady D Wells, Howie D, L. Greg Smith, Dan Byrd, Darryl Anderson and Amazing DJ Baron, Johnny Dangerous, DJ Sharif, DJ Algebra, DJ Eddie Ed, DJ Venus 7 and DJ D-Nice, just to name a few. My claim to fame is that I had the honor of performing for former President Clinton and the Saxophone Club (a group of Presidential supporters) during his first term. For a few years I worked with at Big Wave International. Big Wave specializes in Video Dance parties. Working for Big Wave, I traveled across the United States entertaining young adults from a multitude of backgrounds at colleges and universities.
I have played in a few clubs, bars and pubs throughout New York, Philadelphia and mostly New Jersey.  My favorite music is House and Old School Club, however I made a decision early in my DJ career that I would play all types of music.  That comes in kind of hhandy when you are a mobile DJ.  I can mix it up with Hip Hop, Reggae, Old School, Top 40, Mainstream, Soca, Latin, Gospel and any other type of music to entertain the folks on the dance floor.
Now, from all of the years of experience, I also decided to produce my own show so I could perform in front of people more frequently.  So Prime Time Entertainment LLC has done quite a bit of event promotions and hosted many parties, comedy shows, fashion shows and cabarets in New Jersey.  We also provide sound reinforcement for gospel shows, hair shows, fashion shows and large corporate and social groups.
Big Al Smith