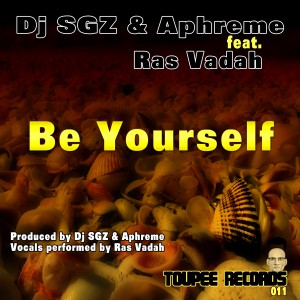 Cat# Toupee0011
"Be yourself" – SGZ & Aphreme featuring Ras Vadah
Toupee Records – out now !  http://bit.ly/1vkxMC8
Dj SGZ & Aphreme featuring Ras Vadah "Be yourself" (Toupee Records CD Promo)
From the minds of DJ SGZ, Aphreme and vocalist Ras Vadah comes "Be yourself", a soulful gem guaranteed to send shivers down your spine as dulcet yet captivating deeply groovin' rhythms lead the way for luscious keys, acidic overtones and Ras Vadah's beautiful deeply felt vocals – top-notch soulful house music. The dub gives the track a classy old school feel guaranteed to jam-pack the floor.
Reviewed by Mike Fossati for Spirit of House
Produced by Aphreme & SGZ
Vocals performed by Ras Vadah
Another Toupee Records Joint 2014.