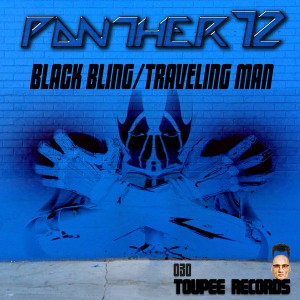 Cat# Toupee30
Release: Black Bling/Traveling Man
Label: Toupee
Panther72 – Black Bling / Traveling Man – out now – http://bit.ly/1PIyfHl
All I can say for this E.P & producer is WOW ! Here we have a 4 piece deep down under package with all the right elements to fit any set or play at any time for the dancers. Panther72 has come a long way in both production and quality.There are 2 Original tracks in this release produced by Panther72 which has his signature soulful sound but with a touch of Afro-Tech which is second to none. He is def one of those underrated producers in our industry.
Grab this amazing E.P featuring the banging "Traveling Man",a deep funky beat track with dark musical elements while "Some harmony" is simply a beautiful ride.Also included in this hot package is a re-trail remake of his last banger "Exibit A" by Jay Electronica which is SICK to the core!. Last but not least we have this remarkable remix of Drake's "Hotline Bling",a Dj Panther72 flipped remixed into a dope house ride renamed "Black Bling" for the added soulful vibes we all love.
This is a true gem and should be to added to your collection.Play it loud for your dancers ,they will love and thank you for it !
Tracklist:
1)Black Bling – Panther72 Remix (6:51)
2)Exibit A – Jay Electronica(Panther72 Re-trial Revisit) (8:18)
3)Some Harmony – Panther72 Original Mix – (9:14)
4)Traveling Man – Panther72(Original)Back to basics Mix (6:52)
All tracks produced,mixed and re-arranged by Panther72
Panther72 ASCAP 2015.
cover art: JorgeG Graphix – jorgegee@gmail.com
Booking and info:
Facebook:
https://www.facebook.com/DJPANTHER72
email – dj.panther72@gmail.com
Toupee Records on Facebook: https://www.facebook.com/groups/210071055842963/
Just Another La gata de fuego Joint 2015.