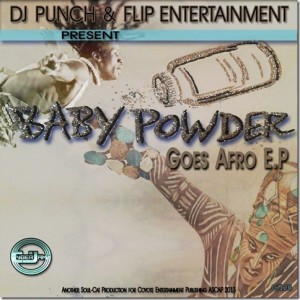 Cat# CJ125
Baby Powder goes Afro
Dj Punch & Flip Ent.
out now.. thx in advance for the support !!
http://traxsource.com/title/235951/b…wder-goes-afro
DJ Punch & Flip Entertainment "Baby Powder goes Afro EP" (CyberJamz Records CD Promo)
We have been all over the previously released three volumes in the "Baby Powder Traxx EP" series, and there is no exception with the latest installment, the "Baby Powder goes Afro EP". DJ Punch and Flip Entertainment are pulling out all the stops on this six track release, with each of the tracks being a sure-fire floor weapon thanks to utterly infectious afro infused rhythms and enchanting melodies, not to forget to mention some of the tracks bring back remembrances from the early days of house. In other words, this EP is an inebriant journey to deepest unadulterated house music grounds by no means to be missed…
Review by Mike Fossati of Spirit of House.
Tracklisting:
1)Cheaters – Dj Punch & Don Juan Vocal Mix (6:00)
2)The Computer Game – Dj Punch & Flip Ent Remix (6:13)
3)Dj Punch goes Afro (10:25)
4)DJ PUNCH IN THE ZONE PART 3 (10:03)
5)Punch Bass Part 3 (11:53)
6)The Pot has Melted – Dj Punch & Andrew Hogan Remix (5:13)
produced,mixed and arranged by Dj Punch
artwork:
Jorge Gee 2013.
DJ PUNCH & FLIP ENTERTAINMENT  present  "BABY POWDER GOES AFRO"
#1  Cheater – Remix by Dj Punch  & Dj  Don Juan
#2. Dj Punch goes Afro – Mix by Dj Punch
#3. The Computer Game – Mix by DJj Punch
#4. Punch Bass # 4  Mix by Dj Punch & Flip Ent
#5. Dj Punch in the Zone – Mix by Dj Punch
#6. ** BOUNUS TRACK*  The Pot is Melted – Remix by Dj Punch & Andrew Hogan
All tracks are produced, mixed and arranged by DJ PUNCH & FLIP ENTERTAINMENT for BABY POWDER MUSIC BMI 2013″
Another Soul Oasis Entertainment ASCAP 2013