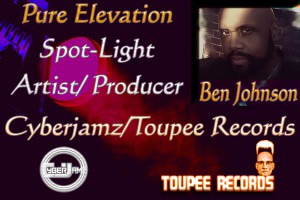 Artist/Producer Spotlight – Ben Johnson – Pure Elevation
Cyberjamz/Toupee Records are proud to feature our very own artist/producer Pure Elevation as this weeks spotlight pick with releases out on both labels.In 2014 Pure Elevation was introduced to me by another of my many talented artist on our label Sal Negro.Upon this introduction Ben Johnson has released a set of E.P's from his first debut joint entitled "Levels In My Mind", a 4 piece dance floor gem that we still rock whenever we play it out.The follow up release "Sexy Shimmy's Groove"  is very interesting featuring Sal Negro on spoken-word vocals and lovely keyboard and bass-line work.As we continue with this talented producer,he also delivers a few pieces  on our sub-label Ayze Songaa Recordings.Leading the way is the  "Moments Alone E.P" which  also features Sal Negro on vocals and offers a hot Tayo Wink Remix.The wonderful Ben Johnson cut  "A Reason" is indeed one his best releases on Aiyse Songaa Recordkings feat himself on vocals.meanwhile his "Do your Thang E.P" is another demonstration of why this man is at the top of the dance floor game.
Moving on to Toupee Records,comes the hot  dance floor gems "Give it to Me" &  "Dance" respectively.Also out on Toupee Records is the "Liquid Deep E.P" & "Into House" featuring the soothing deep vocals of once again Sal Negro.Finally we get his latest remix touches on the lovely Mona Bode release "Looks like Gold" with Mixes by ChiProfess  of which has been making it's rounds around the club circuit.
So as you can read,this cat has been quite busy working his magic around our musical community.
Discography
All releases avail at http://traxsource.com and http://junodownload.com
Levels in my Mind – Pure Elevation –  Cyberjamz Records – http://bit.ly/1k0Ebb2
Sexy Shimmy's Groove – Pure Elevation feat Sal Negro – Cyberjamz Records –  http://bit.ly/21fATce
Moments Alone E.P – Pure Elevation feat.Sal Negro – Ayze Songaa Recordings  –  http://bit.ly/1LzdJlm
A Reason – Pure Elevation – Aiyze Songaa Recordings – http://bit.ly/1QHRDF5
Do your thang E.P – Pure Elevation – Cyberjamz Records  –  http://bit.ly/1MCm9wk
Give it to Me – Pure Elevation – Toupee Records  –  http://bit.ly/1MNkUqV
Dance – Pure Elevation – Toupee Records –  http://bit.ly/1txIPE9
Liquid Deep E.P – Pure Elevation – Toupee Records – http://bit.ly/1NcNS8p
Into House – Pure Elevation feat. Sal Negro – http://bit.ly/1RghkOt
Looks like Gold – Mona Bode – Mixes by Pure Elevation & ChiProfess – Toupee Records – http://bit.ly/1MunUwH
**other releases –  http://bit.ly/1MCndQJ
Booking and contact info:
https://www.facebook.com/ben.alex42?fref=ts    or   https://www.facebook.com/truck.johnson?fref=ts