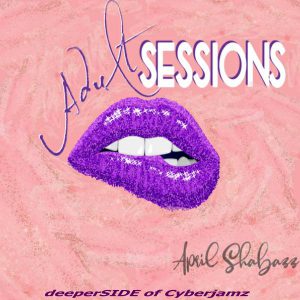 HOT OFF THE PRESS & Slammin Release Alert!
ADULT SESSIONS EP – APRILSHABAZZ – deeperSIDE of Cyberjamz Recs Target release date April 24,2020.
CYBERJAMZ – TOUPEE & DeeperSIDE of Cyberjamz Records welcome new producer to our label Ms. April Williams – APRIL SHABAZZ to our music family.
April Shabazz is a hot new and upcoming producer born in the city of Philadelphia and of Brotherly love and she is about to unleash to the World her musical talents by producing her first-ever EP debuting on Cyberjamz & deeperSIDE of Cyberjamz Records in 2020. April has always held tight to her appreciation of many music genres and especially house music. In addition, her skills come from watching and learning from her husband and mentor Dj Lucky Santiago.(Ab Kalim Shabazz), who has two fantastic EP's out Cyberjamz Records himself and. although April is new to music production, her upcoming EP entitled "ADULT SESSIONS" will demonstrate that women producers are also at the top of their game.
So keep your ear to the ground for a few banging pieces coming your way from The Shabazzes.
Contact and info: contact@rekindledenergy.com