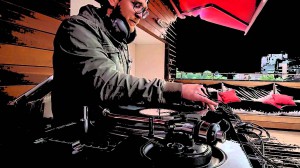 Cat#149
Artist: Addvibe
Release: Return of the Vibe (Mixes by Tayo Wink & First Touch)
Label: Cyberjamz Records
Bangin !!! out now !
Return Of The Vibe E.P (Mixes By Tayo Wink & First Touch)
http://bit.ly/1IeXSZr
This E.P is out of control featuring the banging piece "Motherland",with a hot remix by Cyberjamz/Toupee Records producer Tayo Wink.The gorgeous jazzy vibes continue in the package with "The Diamond",a beautiful crafted and produced piece that will capture your mind,body and soul.Next is the fabulous we have the deep African flava mix of "Zulu Chant",a unique vibe that will sure rock your dance floor.Addvibe has now so many sketches and ideas, and with even new vocalists and musicians being added to the project, it is no secret that the goal is to release an album. There would be a width to it, from simple grooves to pure out jazzified house.
"Return Of The Vibe EP" by Addvibe (Mixes by Tayo Wink & First Touch)
1. Motherland 3000 original mix
2.Motherland 3000 (tayo wink remix)
3. Diamond (Original Mix)
4.Diamond (First Touch Remix)
5.Zulu Chant (The Second Coming)
All tracks produced,mixed and arranged by Addvibe
1. Motherland 300:
Horns: Anatoly Ice, Jason Nemor Harden.
Flute: Pål Stefan Brekke.
Bass: Trond Nedberg.
Vocals: Jason Nemor Harden.
Percussion: Dennis Sandoo jr.
All other elements: Pål Sørli
Additional production by Tayo Wink for Coyote Entertainment (ASCAP 2014)
2.Motherland 300 (Tayo Wink Afro Soul Remix)
mixed,arranged and mixed by Tayo Wink for Coyote Entertainment
3 .Diamond (Original Mix)
Arranged and produced by Pål Sørli (addvibe)
Guitar: Tore-Morten Andreassen Figenschow
Rhodes: Jan Øyvind Moskvil.
Trumpet: Rostislav.
Spoken vocals: Jason Nemor Harden.
Vocals: Pål Sørli and Jason Nemor Harden.
All other elements: Pål Sørli.
4.Diamond (First Touch Remix)
mixed and produced by First Touch
5. Zulu Chant (The Second Coming)
produced by Addive
all elements: Pål Sørli.
Cover by JorgeG for JorgeG Graphix  (2015)
contact:
Cyberjamz Records A&R SammyRock for Coyote Entertainment 2015
Bio & Info:
At the age of nine, dj addvibe was exposed to musical flavours like Creole, reggae and afro by his new "father", as his mother married a man from Cape Verde.
A few years later the young rebel found his salvation in the early days of hip hop, both as a dancer and a dj. Rescued from the streets of Oslo by the Jamaican dj Dennis, who discovered this young talent and took him under his wings. Of the streets, dj addvibe spent his days behind the turntables, practising his mixing skills. After one year of hard work, he took the Norwegian DMC mixing title, making him the Norwegian representative in the world finals, Albert hall London, where he impressed with a sixth place.Never stopped dj'ing, dj addvibe then started to produce funk, disco and jazz inspired house music under various aliases, first on his own Thang records, distributed by peppermint jam, later he signed deals with a Varity of different labels like Beatservice, DFR, Defender and Ten pin.
On the musical project addvibe, Paul Sorli teamed up with Tom Johannsen on guitar and Thor Egil Braseth on keys, this collaboration brought them rave reviews from a wide range of DJs and producers like Harvey, Tom Middleton, Lars Behrenroth, Monte la Rue, Laurent Garnier and Mark Gorbulew. The track "Brothers" was remixed by the masters of NY house Mateo & Matos. The release party for the album "Luv&hapiness" was held at the famous club Cargo in London.
In addition to being a dancer, dj and producer, he hosted radio shows, booked numerous gigs throughout Norway, and even been deeply involved in the well known club concept "Yaz'n" in Tromsø.
Its almost impossible to describe dj addvibes nights, as his background and vast record collection are so varied, but to rephrase his words; I'll play anything that has inspired my music and dj-sets trough the years, as long as it's groovy, but one thing is certain, am a insurance man for the funk!
Release overview from discogs: (Not complete)
http://www.discogs.com/search?q=addvibe&type=all
www.myspace.com/addvibe
www.myspace.com/thangproductions
Facebook:
Booking and info: