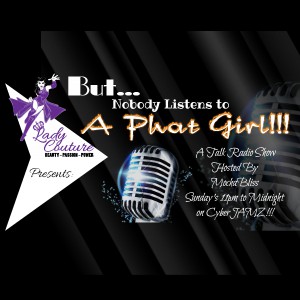 Cyberjamz Radio welcomes P.H.A.T Girl aka Mocha Bliss Talk Show airing every Sunday Night from 10pm – 11pm est (USA TIME).
Check into this wonderful talk show featuring Mocha Bliss. This is a unique show in that not only will she hosting guest deejay's and industry people but fantastic music to wind down our Sunday nights.Come check us out !
Bio & Info:
" A P.H.A.T. girl" AKA Mocha Bliss has never been a stranger to the concepts of real or raw life, real exposure or brutal struggle. She was born in the Coney Island section of Brooklyn New York in the year of 1978. She learned about diversity in the largest Melting Pot around which from her birthplace. The state of New York requires no explanation nor introductions to anyone worth knowing. This place is known for its marvel's. These wonders range from the historical monument-the Statue of Liberty to the wealth of knowledge available at colleges such as the great NYU. Whether you speak of: the vast shopping districts, arts, music, history, the silver screen to food…NY leaves no stone unturned.
While New York had shone brightly to most, it has also been home to some of the best and worst events that the world has ever seen. It is from this rich and coarse soil that would nurture and give life to the roots of Mocha's early youth. She attended school at PS 188, where she learned the basics of knowledge and understanding. While also gleaning skills that were less than desirable from notoriously unruly cliches. These behaviors with destructive to herself and others. Thus at the age of nine she was abruptly sent to Camden New Jersey where she spent the remainder of her childhood and adolescent years.
History has proven that true warriors are conditioned and built by hard life experience. The universe required Mocha to be born out of a family where deep hurt, toxic bitterness and hate were weaved into the core. The majority of adults responsible for shaping her perception of reference points also repeatedly submerge her in the ocean of their many unresolved issues which resulted in scars from the sharp shards of continuous chaos.
We all know that nothing worth having comes easy. This is both the ultimate lesson of the universe and the true cost of wisdom. If you are fortunate, you grow and learn to keep a positive outlook much like "a P.H.A.T." girl".
more info and conact:
https://www.facebook.com/Ms.JontayWatson