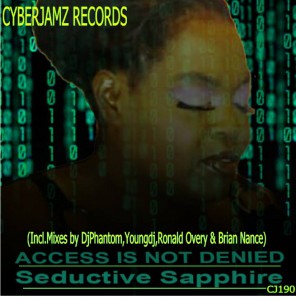 Hot Release Alert:
"Your Access is not Denied" – Seductive Sapphire (Mixes by DjPhantom,Youngdj,Ronald Overby & Brian Nance). Cyberjamz
Here we have a collection of family label producers each offering their musical taste to accommodate the sensual seductive lyrics by our very own Sheila Johnson – Seductive Sapphire.
Kicking off this package is Walter Phant Ellison – Dj Phantom who delivers what is to be a banging thumpin kick drum with afro elements and lyrics to make this one a favorite, meanwhile Moloko Manganyi Youngdj continues to show us why he is one of the best up and coming producers in South Africa and now here in the USA… His mix is totally "out there" with afro-tech being the main focus of this mix.Next up is Ronald Overby who took a different direction by offering his interpretation and combining soulful funky house with a down tempo beat that will have you boppin your head and stomping your feet.. this is a very good mix.Ending this package with the out to the left side eclectic, comes Brian Nance with his deep house electric soul version that will leave you scratchin your head asking.. Who is this producer ? This is a dope remix and can only be concocted by this musicial maniac we call BrianTech.
In a nutshell .. this EP is dope !
coming Friday March 31,2017 to Cyberjamz Records.