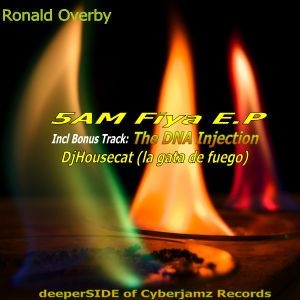 Hot Release Alert: 5AM FIYA E.P – Ronald Overby (Incl Bonus Track: DNA Injection (Dj Housecat(la gata de fuego) / deeperSIDE of Cyberjamz Records.
What a fantastic E.P we have here by my Nubang Clan brother Ronald Overby .This package consist of five dancefloor gems ranging from deep house to tech and right back again touching soulfulhouse & afro,so there is something for any type set you might wanna drop.Also including in this dope EP is the hot piece "DNA Injection" feat DjHousecat(la gata de fuego) (Ronald Overby Afrocentric Remix) which is a banger by itself.
*Keep an eye out for the first set of mixes of DNA Injection coming soon to Toupee Records.
All and all RonnieRon did his thing !
Another Soul Oasis Joint 2018