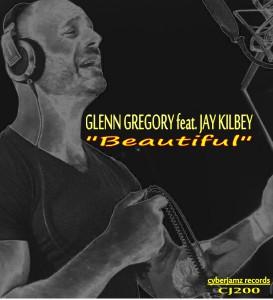 Cat# CJ200
Release: Beautiful
Artist: Glenn Gregory feat Jay Kilbey
Label:Cyberjamz Records
OUT NOW http://bit.ly/2eRFGm7
Glenn Gregory featuring Jay Kilbey "Beautiful" (Cyberjamz Records CD Promo)
Last week, we introduced you to Glenn Gregory's splendid remixes of "Walk with him" by Mona Bode, now this highly talented DJ/producer returns with the phantasmagorical "Beautiful" which features the gorgeous vocals of Jay Kilbey alongside glorious jazzed-up keys and dreamy chords over smooth yet intriguing percussive rhythms. The utterly tantalizing 'Remix' is a fantastic alteration keeping the vibe soulful and jazzy yet giving the track a somewhat more intense feel.
Review by Mike Fossati
Spiritofhouse.com
Trackisting:
1)BEAUTIFUL-Glenn Gregory feat Jay Kilbey(Original Vocal Mix) (6:08)
2)Vocal Remix 1
3)Vocal Remix 2
4)Original Instrumental Mix
5)Instrumental Remix 1
6)Instrumental Remix 2
All vocals performed by Jay Kirby
produced,mixed and arranged by Glenn Gregory
cover SammyRock(Cyberjamz Records / Radio.
producer and artist contact:
glennngregory@gmail.com
label contact:
sammyrock@mail.com
A&R SammyRock aka Soul Oasis – Coyote Entertainment 2017.