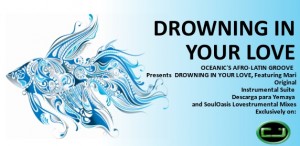 Out Now !!  —>    http://www.traxsource.com/index.php?act=show&fc=tpage&cr=titles&cv=154807
Cyberjamz Records is always looking for new sounds,artist and producers to bring out quality releases.Here we have a lovely latin flava pecussion filled masterpiece with all live musicians including some of salsa music legends like Nick Laboy,Piano and Keyboards by  Efrain "Junito" Dávila,produced and written by Ocenaic of Afro-Latin Grooves and in my humble opinion this is truly Cyberjamz best release up to date.Grab a glass of wine,light up a cigar and your signifigant other.
Spirit of House – Pick of Week goes to "Drowning in your Love" – Oceanic Afro-Latin Groove feat.Mari-Cyberjamz Records
http://www.spiritofhouse.com/reviews…ick250312.html
Cyberjamz Records bless us with a real musical gem here… The Shirley Marte and Louie 'Lou' Gorbea produced "Drowning in your love" by Oceanic Afro-Latin Groove is sheer musical bliss, with percussive latin flavored rhythms (percussion courtesy of salsa music legend Nick Laboy) leading the way for sublime jazzy keys by Efrain 'Junito' Davila and sultry vocals and spoken words by Mari – in other words, a laidback sun drenched masterpiece guaranteed to send shivers down your spine and make you yearn for more. Essential and highly recommended, make no mistake and put this on top of your purchase list.
Review by Michael Fossati of Spirit of House
Written by: Shirley Marte/ Oceanic Groove Music – BMI
Executive Produced by: Shirley Marte and Samuel Acosta
Produced by Shirley Marte and Louie "Lou" Gorbea
Publishers: Oceanic Groove Music/BMI, Omi Tutu Productions And Publishing Co./BMI
Vocals by: Mari
Japanese Spoken Word by: Mari
Percussion: Nick Laboy
Piano and Keyboards: Efrain "Junito" Dávila
Recorded at Skylight Studio, NJ
Mastering by: Samuel Acosta/Coyote Studio
A & R Sammy Rock aka Soul Oasis for Coyote Entertainment Publishing ASCAP 2012.