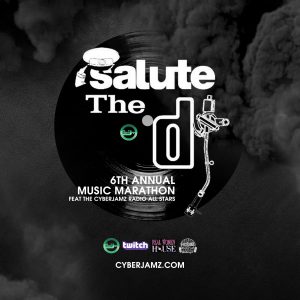 Ok, it took me 2 days to recover from our 4 days Salute the Dj Music Marathon, last week into the finale yesterday Monday. Here are a few things about it for those that missed it. First, I would like to thank ALL my music programmers that participated in this marathon, everyone did a fantastic job and the music selections are off the hook. I would like to thank all of our supporters, deejays that passed through including John Jellybean Benitez, to Andrew Marriott, and other great deejays across the board that took a moment to salute us.
As with any event, we had our share of hiccups and miscues but overall, our dedication to music and our culture prevailed throughout the weekend. Donna Edwards opened things up properly with an exceptional set from start to finish. EMAN of Run Bklyn Radio delivered a fantastic set while we featured parts of the film Bang the Party in the background of which spiced things up as the music jammed on. We followed things up with a dope set by Musa Stretch. DJ DELL respectively. Moving on to day2, LVS Lady Vintage Soul rocked us with a lovely classics show featuring a few obscure pieces not heard since the days of David Mancuso's (RIP) Loft Parties while DjWakeeiAli created a nice mood for the rest of Friday by playing a deep-set and made way for David Lawrence Jones who took us on a journey while we all marveled at his space station console that created much chatter in the chat room. Next up was Dj T-Wise of Ubiquity Soul who also showed us how to work on a solid console with 3 decks and other technical equipment which had us in awe. Oh did I mention his set was hot? Not all shows aired at the CyberTwitchTV such as our featured show by Strong Enough Entertainment pres TRANSMISSIONS with Starchild & The Dub Queen (Bexx Mack Yvonne Turner). Both of these ladies delivered a serious set featuring obscure pieces across our musical spectrum.
The eight o'clock hour bought us a beatdown by Boston's own Ozzie Mandias who just took us there to the dancefloor while DjNELONE closed out our Friday night right into Saturday morning feat a banging set by Tommy Wickens aka Dj A.Plane followed by Selek Mz. Kae whose set was pretty darn good. George Jackson "G-Spot" did his thing too followed by one of Chicago's finest with Mr. Greg Gray (The Sinsay) of The NuBang Clan, who did a fanatic job as setting things off for our weekend. A huge thank you to Danny Arrington for playing the extra hour to fill the gap and showed us why he is so special to us at Cyberjamz Radio. What really stood out about Saturday was both the music played and music programmers that made it happen despite a few minor tech issues but all and all, the show went on. What was special about Saturday night was the introduction of Dj Terratori, who played a diverse set of pieces including drum n bass and other unique pieces of music. The is her second time representing #HOTWMD and Cyberjamz as well as giving out a salute to ALL Women DeeJays of the World. Brother Keith PorterhouseMuzik closed out our night and went well into the morning hours which in itself wonderful. Our fourth day of programming was also one for our history books as veteran Jorge G who has been a music programmer at CJ RADIO for over 16 years took us on a musical ride meanwhile Dj Eddie-Dee rocked it with his Salsarengue Show followed by Cordell Johson out of Chicago who rocked a dope classic vinyl set and introducing to us an obscure disco set of tracks never heard before. Up next was the Legendary Hippie Torrales who also rocked the decks for us with his own interpretation of unique pieces and following him was DjHarry Glenn, another under-the-radar music programmer for us at CJ. Big Logan jammed proper and bought us a Jersey experience we will never forget and Abe AB7 Rodriguez took us on a lovely evening set into our Mystic Vybrations Show feat Michael Stuckes.
The Cyberjamz Radio Finale on Monday featuring yours truly SammyRock aka Soul Oasis and DjHousecat(la gata de Fuego) took a life of its own both in music selections and in attendance by a few of our followers who were pleased with what they heard from both of us. It was great to see the Legendary Jellybean Benitez stop by to show support among many others that hanged with us all five days of this marathon. Big love to Ronald Overby, Robin aka Black Butterfly, Arcadia, Danny Arrington & Anthony Tony Mack Esq for donating towards our server. If you would like to donate to our cause please submit any amount to pay pal Samuelacosta@hotmail.com Subject line: Server donation drive 2021. Cash app
In closing, I would to send a very special shout-out and thank you to Catherine Harris Rowell for all you do for me and our site, also hugs and thanks to Seductive Sapphire for holding down the moderation at both Cyberjamz Radio and the CyberTwitchTv., thank you sister NuBang Nini EternalSol Juliano. Please follow us at https://www.twitch.tv/cyberjamz_tv for upcoming shows and special events coming soon.
C.E.O Cyberjamz Radio(since 2003) SammyRock aka Soul Oasis
cyberjamz.com