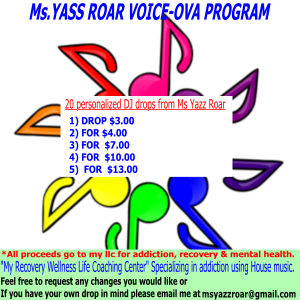 VOICE OVA DJ ALERT: ms Yass Roar and Therapy House pres Deejay Voice Ovas for a cause 2021.
Spoken-word Artist Roar Msyazz (Ms Yazz ) is now offering voice-overs for your deejay sets or upcoming future events.
Choose from 20 personalized DJ drops from Ms Yazz Roar
1) DROP $3.00
2) FOR $4.00
3) FOR $7.00
4) FOR $10.00
5) FOR $13.00
**Please make sure your name is spelled exactly how you would like it said in the DJ Drop. Feel free to request any changes you would like (BEFORE I RECORD IT) or let me know If you have a drop of your own in mind you would prefer to use. (BEFORE I RECORD IT) Sound effects are available For $5 extra depending on how many you purchase.
$Cash App to $MsYazzROAR OR
ZELLE to Trinibridge222@gmail.com
** All proceeds are going toward My LLC for "My Recovery Wellness Life Coaching Center" to assist people struggling with addiction & mental health trauma using House Music as part of recovery therapy.
For more details or services email msyazzroar@gmail.com