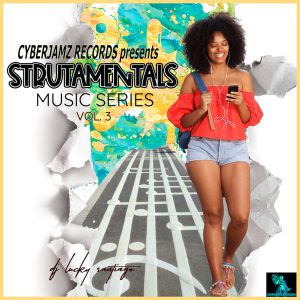 Hot Release Alert. Strutamentals V3 – Dj Lucky Santiago – Cyberjamz
Dj Lucky Santiago has been at the forefront of his music productions for quite some time as demonstrated once again in this latest offering Strutamentals V3. This time around he takes us on an emotional ride featuring a few hot pieces out of his musical vault, each with its own distinct sound. I truly love this Strutamental Music Series and for a third time, it's right on! If you haven't picked up both Strutamental EP's Vol.1 and 2, then you are missing out on some serious pieces to add to your deejay set or playlists.
All tracks produced and re-jammed by Ab Shabazz (Dj Lucky Santiago.
Santiago Music 2020.
cover by April Shabazz

**Pick up all his music at https://bit.ly/3dduFn8
or for more of Dj Lucky Santiago Music check out his site at https://www.djluckysantiago.com/music
Contact and info https://www.facebook.com/ab.shabazz
Another SOULCAT Joint Cyberjamz Records