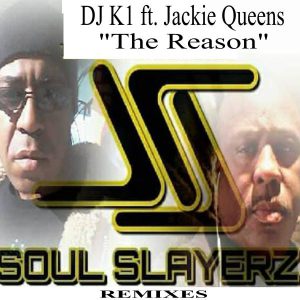 OMGoodness Hot Release Alert as our 3rd Release.DJ K1 feat Jackie Queens – The Reason (Soul Slayerz Remixes) Deeper Side of Cyberjamz Records – https://bit.ly/388OUAg
POSH INC & Cyberjamz Records team up one more time to bring to you this time-less jam featuring Jackie Queens. This time around The Soul Slayerz (Tayo Wink/Zona Soul & Hakeem Syrbram of the Keemix Show) delivers two hot unreleased mixes that will blow your mind and those on the dancefloor!
**Offical release date Jan 10,2020
written and performed by Jackie Queens
produced by Posh Inc & K1
re-produced, remixed, re-arranged and re-jammed by The Soul Slayerz 2020.
Mastered by Tayo Wink
*Original mixes out now
K1 feat. Jackie Queens – The Reason on Traxsource https://bit.ly/2NhwdQK or junodownload https://bit.ly/2QDBIuq
keep your ear to the ground deeperSIDE of Cyberjamz 2020
Another SoulCat Jam 2020.