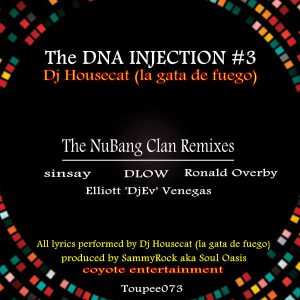 A BIG Thanks to Michael Fossati for the nice review !
Catherine Harris Rowell – DJ Housecat (la gata de fuego) "DNA injection" (The NuBang Clan Remixes)(Toupee Records Promo)
Toupee Records once again present dope new interpretation of the proven and tested dance floor weapon "DNA injection" featuring the incomparable spoken words of Catherine Harris Rowell aka DJ Housecat (la gata de fuego). This time around, the likes of Greg Gray (Sinsai), Derrick 'DLOW' Derrick DLow Singfield, Ronald Overby (DJ Ronnie Ron) and Dj 'DJEV' Elliott Venegas add their signature touch to give you plenty of choices to work the floor.
Pick it up out now https://bit.ly/31Ki9Ha
Mike Fossati for http://SpiritofHouse.com
https://bit.ly/2IYOZN3