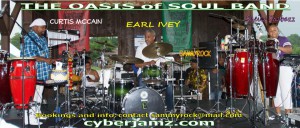 We are officially introducing The Oasis of Soul House Music Band.
If you attended this year's House on the Waterfront Weekender at Bladensburg Park in Maryland USA, then you already know how we get down. This hot three-piece percussion ensemble got it in proper while yours truly SammyRock aka Soul Oasis provided the fourth element of music featuring a well-orchestrated mixture of sounds and classics to make this debut musical summit a success.
The players involved in this awesome band are leader and co-producer of our routine Shelia Shabazz, She is a master percussionist, writer, and organizer of what we do as a team meanwhile Mr. Curtis McCain delivered his own slamming drums, percussions, and other instruments which added another dimension to our routine. Next is our funky king drummer himself, Mr. Earl Ivey who single handily took the direction of both Sheila and me to the next level by providing his own flavor and made what we did complete. Last but not least is yours truly SammyRock who along-side Sheila Shabazz recorded the routine just two days prior to us showcasing our new edition to our #HOTWMD event. What made this special was that it was the first time we all worked together and how on the fly we had to learn and vibe off each other in order to make it work and OH how it worked!
Dancers and lovers of music alike were at awe with what they were hearing. Even throughout the rain, we danced and we partied assess off !. All and all, It was a fantastic learning experience for us involved and the lovers of music got a taste of what is about to come with The Oasis of Soul Band.
In closing, I would like to thank them all for their professionalism and their will to add their dimension to house music. God Willing next year we will add a new music routine for the people. If you would like us to bless your event, City, State or town, then book the Oasis of Soul Band today! We truly hope you can come out next time we jamming and experience what we have to offer.
sammyrock@mail.com
contact Shelia Shabazz at https://www.facebook.com/shelia.shabazz