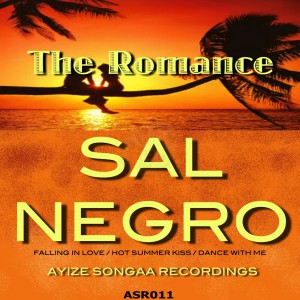 The Romance E.P – Sal Negro – Ayize Songaa Recordings
This triple romance EP is finally coming out after a long wait by the fans of Sal Negro. This EP start off with you finding that one person that you are sure of and you know you are Falling In Love. Spending that time and with that person you get to remember that on e true kiss, that Hot Summer Kiss that was better than any other for it keeping you remembering why you fell in love. And so much time together and knowing this is your love, you recall that time you were asked to Dance With Me and your world was complete.
This EP is to remind everyone that love, the kiss, the dance, is all part of the romance. It is all part of being with that special someone. Enjoy!
1.Falling In Love (Asi Te Quiero Mix)
2.Falling In Love (Different Ending Mix)
3.Hot Summer Kiss
4.Dance With Me
Falling In Love (Asi Te Quiero Mix)
Written and produced by Sal Negro
Programming by Sal Negro
Classical Guitar – Sal Negro
© 2011 O. Sal Herrera, Jr.
Time: 7:14
BPM: 125
© 2011 Ayize Songaa Recordings
(p) 2013 OSHJR Music
Falling In Love (Different Ending Mix)
Written and produced by Sal Negro
Programming by Sal Negro
Classical Guitar – Sal Negro
Synthesizer – Luguzy Atkins
© 2011 O. Sal Herrera, Jr.
Time: 7:14
BPM: 125
© 2011 Ayize Songaa Recordings
(p) 2013 OSHJR Music