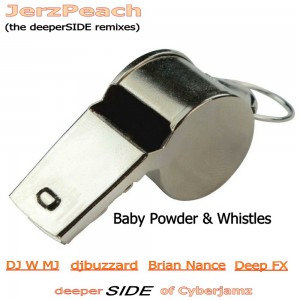 Hot Release Alert: Baby Powder & Whistles (The deeperSIDE of Cyberjamz Remixes) – Dj WM J,dj Buzzard,Brian Nance & Deep FX
Roll Back Cyberjamz Records.
Here we have a dope collection of remixes by Dj WM J,Dj Buzzard,Brian Nance & Deep FX. All the mixes are slammin and there is something for every type deejay and dancer in this package. Miss JerzPeach tells us the dance floor story of Baby Powder and Whistles. A story most of us are familier with….
produced by SammyRock
co-produced by Dj Buzzard, Dj WM J,Brian Nance and Deep FX.
vocals written and performed by Cassandra Logan JerzPeach.
cover by SammyRock.
licencing ,booking ,artist and producer info
contact sammyrock@mail.com
*Keep your ear to the ground deeperSIDE of Cyberjamz 2018