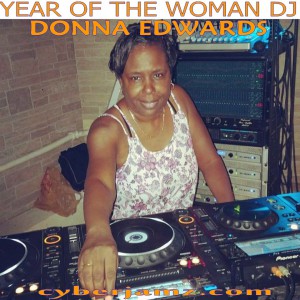 The Cyberjamz Radio Year of the Woman Music Series continues with Donna Edwards.
Stream or download Podcast here: http://souloasis.cyberjamz.com/?p=4170
This week we continue our music series featuring one of New York Cities best Miss Donna Edwards ! Not only is she one of my closet friends but Donna was also one of the original Cyberjamz Radio broadcasters when we first took off back in circa 2003. Her famous "Shades of Dance" brand has been consistent with "quality" sets played all over the world to "legendary" as she has played next to the best male and female deejays in our industry.
Below we added "some" of her bio which is quite extensive as Donna has been representing in our music community for a few decades.We hope you take a moment and check in this coming Thursday Feb 22,2018 from 3pm to 5pm est (USA time) and find out why she is one of the best in the game.
Biography
From Donna's first encounters with music mixing thanks to former neighbor legendary DJ & Promoter Don Welch (Sound Factory Bar/Underground Network), Edwards was smitten with the idea of blending beats and rhythms to make people move! Encouraged by weekly family outings to Brooklyn's revered Empire skating rink, Donna was influenced by innovative talents like Tee Scott and DJ Big Bob who helped motivate her decision to learn the craft and pursue gigs.
Armed with that can-do attitude and a simple mobile set, Donna performed her first paying gig in a Queens, New York bar in 1982. Donna's first club residency began in 1991 with Tracy Pridgen of Trey's Productions at the Jane St. CafÈ. From there she went on to play at New York city Mega clubs Silver Shadow, Roxy, Octagon, Warehouse & Shelter for various promoters! Donna also traveled making guest appearances in D.C.'s Dance circuit @ club Tracks & the Edge. One of her favorite residencies was @ The Warehouse in the Bronx, NY from 1998 until 2002 – with promoters Tracy Pridgen, Charles Jackson, the late Mike Stone, Dj Andre Collins, Missy B, Dj Trini & MK during the venue's hey day. Back home in Brooklyn from 2002-2005, she was a third of the trio (with partners Lil Ray and Tyrone Francis) anchoring the thriving BKNY event at the 667 Lounge on Wednesday nights with Kayo. She also started her residency at the borough's other classic spot, Frank's Lounge for their Friday FFun soiree. In 2002, she continued to stretch the boundaries of her fame with gender-bashing appearance prime time, 8 hour set at Club Shelter in December. The first woman ever to play at Club Shelter, Timmy Regisford & Freddy Sanon's underground haven for club goers. Her place in club lore is assured but less for her sex and more for her classic commitment to delivering a satisfying dance party that's tailor-made for specific audiences. "It's about making sure the people that come through the door are happy, the promoters are happy and the club owner is happy. If you can't do that, then you won't be working," she states simply. "The key to a good party is how you play the music – the selection and the programming."
She has traveled the world gracing the turntables in New York, New Jersey, Orlando, Miami @ the Winter Music Conference, Washington, D.C., Philadelphia, Chicago, Detroit, Germany, London @ club Fabric and club Shelter in Leeds, England and her latest Tours @ Terry Hunter's Bang Party at the Dolphin in Chicago Nov.2, 2014 & Ultra Nate's Deep Sugar Party @ club Paradox in Baltimore held July 2014 & 2015 bringing her special blend of dance to enthusiastic crowds. During her career she has played with NYC's Legends Timmy Regisford, Louie Vega, Danny Krivit, Andre Collins, Don Welch, Freddy Sanon, Anthony Nicholson, Glenn Underground, Tyrone Francis, DJ Minx, Cocoa Chanel & more! Donna opened for the Maestro Timmy Regisford of Club Shelter from September thru November during that year. She currently has residencies @ Frank's Lounge in Bklyn, NY & Club Elevation in NJ & also tours Worldwide, her latest tour Ryo Watanabe's "Face" in Japan presents "Shades of Dance NYC" Donna Edwards at club Eleven, Tokyo, Space @ Niigata & Precious Hall, Sapporo March 2013 & Japan August 2015 return to clubs Precious Hall Sapporo, Club Union Shiga, Osaka, & Tokyo on her Asian Tour! Donna's "Shades of Dance" radio show was on air from 2003-2010 at Cyberjamz.com and has returned to DHPradio.com every Tuesday 1pm-2pm EST ! She is also a member of Judy Weinstein's record pool "For The Record" & currently working A&R for Freddy Sanon's Shelter records! She is currently Touring Stateside & Internationally ESL Sundays Sam Burns, Washington DC, Ultra Nate's Deep Sugar, Baltimore Club Paradox & Japan Tour August 15-23-2015 Face Presents Shades of Dance NYC Donna Edwards, check her Social Media Pages for Event Listings! "Shades of Dance NYC"….I live, love & share Music through various channels for most of my existence..thats who I am….nothing more nothing less!
For Bookings email Donna Edwards @ Shadesofdance4412@gmail.com Follow her on Twitter at https://twitter.com/DjBlackMamba4 & https://www.facebook.com/pages/Shades-of-Dance/125078524224136?ref=hl