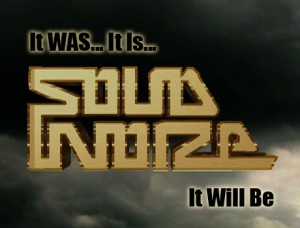 Cyberjamz Welcome Rob Da' Noize Temple of the Temple Dynasty Band as an official sponsor of our Radio Station,also coming soon will be a live show by Rob Da' Noize Temple soon !! TBA
SOLID NOIZE ENTERTAINMENT, INC.
Solid Noize Entertainment, Inc., is an entertainment and marketing company based in Brooklyn, New York with its inception in 1986 by veteran music producer/keyboardist, Rob Da' Noize Temple and guitarist/bassist Judy "J' Cha" Smith-Temple.  "The heart and soul of the music business is the song".  Solid Noize Music, the music publishing division, is an ASCAP and NMPA member with a 7,000-song catalog.  Solid Noize Studio's, the recording and production division, features two digital/analog recording suites.  Solid Noize was community based and socially conscious from its inception.  The business strategy was to tap into the raw creative energy and talent emerging from the urban streets and to use the music as a magnet to attract the hip-hop community and provide them a forum to express their musical creativity.  Solid Noize Records, the recording division, was at the forefront of the urban hip-hop sound with its first label release of the group Brooklyn House. The album garnered worldwide success. Solid Noize Records label releases include the "Brooklyn House EP" by Brooklyn House, "4U" by super-producer Young Trip, "Success Is The Key" by Antonio P. Stackz and "Love Lights/You Can Lay Your Head On My Shoulder" by Conway & Temple, the first artists signed to Jive Records in 1982.   Solid Noizes' diverse musical roots run deep with productions for labels such as Jive, Motown, MCA/Universal, Strictly Rhythm, Quark, Idler's, Warlock, Freeze, King Street, Produce U.K., Delmar International, UMM, Cyberjamz, Deep Haven, Permanent, Soul Grooves, Street Law, Phuture Sole, Bac 2 Basics, Jazzy, Slaag, Lawton, Style Sounds, Delmar International, Old Town, De Fourvous Music, Boogie Times, Rapture Trax, Ministry Of Sound, SuSu, Defected, Oasa and Present Moment.  The Solid Noize sound can be heard on productions for Universal Music recording artist Shai, "This Is The Place Where You Belong" from the Beverly Hills Cop II soundtrack.  The #1 international hit "Free" by The Mozie B Project, with remixes by Todd Terry.  The 9-week Billboard Magazine "Hot R&B" chart topping "Vibe Of Love" by 4U, co-produced by the legendary Motown hit-makers Holland, Dozier and Holland and "Intimate Moments" the new album from Ray, Goodman and Brown, co-produced by the legendary hit producer George Kerr.  Solid Noize is currently scoring music for "A Season For Love" its third Black Broadway musical production and music for an upcoming international cookbook.  New music is on tap from dance music icons, The Temple Dynasty featuring Diamond Temple, A new album from the legendary Sugarhill Gang, now known as Rapper's Delight, as well as the soundtrack for their new documentary film "I Want My Name Back.  Solid Noize Records upcoming releases include "Get Close" the new album from Young Trip; Krip Hop/MWD Volume III, which embodies the performances of physically disabled musicians from around the world.   Solid Noize…the perfect blend of the "old school" and "new school", the live and the electronic essence of sound.   Solid Noize on the pulse of the music that makes the world go around.
BIOGRAPHY
ROB DA' NOIZE TEMPLE
Rob Temple (a.k.a. Da' Noize) grew up in Brooklyn, New York, where he began playing keyboards at the age of 6 and formed his first band at the age of 13.  As a teen Temple played organ in church and later began performing with various R&B, Jazz, Reggae, Rock and Latin bands in New York and New Jersey.  Temple is co-owner of Solid Noize Entertainment and a ASCAP writer/publisher with a songwriting catalog of over 7,000 compositions ranging in styles from hip hop to esoteric spiritual overtures.
Early in his career, Temple formed the group Conway & Temple, which performed with Evelyn "Champagne" King, TS Monk, Fonda Rae, The Strikers, Marc Sadane, D Train and were artist in residence for the Garden State Record Pool.  As a member of the group Lawton's Law, he co-wrote and produced the hit "The Time Is Now", which was used as Reverend Jesse Jackson's 1984 presidential campaign theme.  Conway & Temple were one of the first artists signed to Jive Records.  Their 1982 classic hit on Jive/Old Town Records, "Love Lights/ You Can Lay Your Head On My Shoulder", earned them a place in Ralph Tee's book Who's Who In Soul Music and was featured on Soul Train UK as well as used as background theme music for the Fuji Films TV commercial.  Conway & Temple also wrote the Gelado Ice Cream jingle for Barbados.  In the early 70's Temple was the graphic artist behind the horological clock art designs of Brett Of London and the original designer of the Freiijon gold love medallions sold exclusively by Playboy Magazine.
Temple has produced and arranged tracks for several record labels including MCA/Universal, Strictly Rhythm, Freeze, Quark, Jive, Warlock, Permanent, e/Legal, Kaleidoscope, King Street, Holland Group, Lawton, Phuture Sole, Slaag and Street Law Records.  His 1986 solo debut EP on Jazzy Records entitled "DJ's Delight, Volume 2" is a cool blend of Jazz, Dance and R&B.  Temple's trademark musical signature known as the "Solid Noize Sound", is a blend of sweet melodies served on a bed of New York street band funk incorporating his unique synthesis and drum programming styles over rich vocal textures.
Temple scored #1 with The Mozie B Project's international dance hit, "Free".  Remixes by the legendary DJ Todd Terry received airplay in the U.S, Italy, England, Amsterdam, France, Austria and has just been licensed and re-released by the legendary DJ Tony Humphries.
In addition in 1999, "Vibe Of Love" was on Billboard Magazine's "Hot R&B Singles & Tracks" charts as well as on the "Hot R&B Sales and Airplay" charts for 9 weeks.
His keyboard and drum production are featured on the dance remix of Universal/MCA recording artist Shai's hit single, "This Is The Place Where You Belong", from the Beverly Hills Cop III soundtrack.  Temple shows his personality on productions by Mtume, BT Express, Patrick Adams, Holland, Dozier, Holland, actor Keith David, dance diva Barbara Tucker, Bishop E. Bernard Jordan and Zoe Ministries.  Temple was the co-host and musical director for the cable television show N.E.E.T. U.S.A.  Temple was the musical producer along with his partner John Miller, for the 50th anniversary tribute to the legendary actress/choreographer, Carmen De Lavallade at Broadway's Millennium Theater as well as the Tribute To Black Broadway, honoring Sidney Portier, Ossie Davis, Ruby Dee, George Faison, Louis Johnson, Eartha Kitt, Lloyd Richards and George C. Wolf, held at the Schomberg Theater.  His debut release of the underground hip-hop group, Brooklyn House created an urban and international buzz. He is currently working with the legendary hit producer, George Kerr along with the classic R&B Soul group Ray Goodman and Brown, gospel diva Sandy Kerr, neo-gospel group Noizemozis on Present Moment Records, hip hop sensation Sage on Street Law Records.  Temple has just completed music for the Yoga/Meditation workout DVD/Video, Tuning Your Body And Mind 2 by Martin Bland, music for Miami Vice's star Phillip Michael Thomas's Broadway play Sacha and a remake of the legendary Van Mc Coy's Grammy award winning dance classic The Hustle, renamed in honor of 9/11 The New York Hustle with jazz bassist Tony Whitfield.  Temple also teamed up once again with producer Mark Mendoza and dance music icons 280 West featuring Diamond Temple for their # 1 international hit "Fly".  Da' Noize taps the rock tip with his keyboards on the new CD by the group Small World Revival.  "Always" by Moses McClean featuring Diamond Temple, "Lose Control" by the Temple Dynasty, "Betta Way" and "I Am Woman" by K Joy, "Keep Rising" by The Temple Dynasty, "I Never Knew" by 280 West featuring Diamond Temple with the lush background vocals of the legendary R&B Soul group Ray Goodman and Brown a.k.a. The Moments and Krip Hop Volumes I and II featuring music by physically disabled musicians.  Da' Noize goes international with "He'll Give You Shelter", "Believe" and 'Thank You Jesus" by The Brooklyn Knightz out in the U.K. "If You Wanna Testify" by gospel house diva Dawn Tallman and "Exercise Your Faith" by gospel house music icon Charles Jerkins. Da' Noize is currently touring as keyboardist and DJ with the pioneers of hip hop the legendary original Sugarhill Gang aka Rapper's Delight along with producing tracks for their new CD and documentary "I Want My Name Back".
 www.myspace.com/robdanoizetemple
www.myspace.com/templedynasty
Rob Da' Noize Temple, CEO Solid Noize Music
Facbook
Bookings and Info: