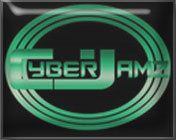 To: All Cyberjamz Programmers
Updated 11/13/13 new information
Cyberjamz has some of the most uniquely talented programmers/producers and artists! The best way to showcase your talent, your show, the music and Cyberjamz is through promoting.
It is your responsibility to promote your show. After all, how do you think listeners will find out about it?
Some of the most successful shows on Cyberjamz are because of the effort to not only promote the show, but, to deliver a high quality show every time.
Below is a standard template that was created for promoting your shows. Feel free to change it up, but keep in mind you need to include the details in parenthesis and the highlighted links. Those who already use the majority of this information listed, verify that you have included all the components listed, specifically the use of yourmuze.fm and tune in radio for listeners who cannot physically be in the chat room or near their computer to hear your show.
Promotions template (UPDATE)
Join us today and every (day) for (name of show) LIVE on http://cyberjamz.com/ from (time) to (time) EST.
No registration needed for the Chat room! http://chat.cyberjamz.com/chat-lowres.aspx
Out & about? Stay tuned in to all Cyberjamz shows on your mobile device http://yourmuze.fm/ key search: CYBER
 tunein.com
For MAC users: http://cyberjamz.com/live.asx
Insert a pic/flyer and any caption that helps to describe your show.  Keep your pic/flyer  up to date.  If your flyer looks aged or out of date in its appearance, the thought will be so does your show.
Think about what makes your show stand out among other shows on the internet. Be creative, change up your format from time to time, like featuring a guest DJ, promoting a themed show; where the set will include the hottest tracks for a certain period, artist or an event. Include names of some of the artists you plan to play on your show or surprises that listeners will only hear about if they tune in.
Promote your show regularly.
Promote during the week prior to your show; start creating a buzz about your show the day before, give a preview of what listeners can expect to hear. Promote the day of your show as well. When your show is over, post a note to your FB wall or other social network thanking listeners for tuning in. Don't forget to promote the aired show by posting the link to the archives, this allows listeners who couldn't tune in to check out what they missed.
Show & Station Identification
In a constant effort to grow and to expose programmers to opportunities to expand their careers and to let our listeners know who they are tuned in to, all programmers are required to ID their shows throughout their time slot.  Since listeners are able to tune in from a variety of sources that do not list the name of the programmer playing or their show, it only benefits you to provide a few identification drops whether recorded or spoken live.  You never know who is listening.
Sponsor Identification
Each programmer will be provided an audio file(see below) of the Cyberjamz sponsors that must be aired during the show. Our sponsors assist us with the freedom to provide free streaming to our listeners and, therefore, should be recognized for their contributions.
Frequently Asked Questions
Where should I promote?
Use social networks, such as Facebook, Twitter, instagram ,other music sites, Podomatic, Mixcloud, Soundcloud, Blogs etc.
Ask friends to assist with promoting your show. Ask them if you can tag them when you are posting info about your show or your flyer. You will then have reached their friends as well.
Continue to add friends, network, and join house music groups on FB. It is important to promote in groups that you are a member of, as Groups reach a wide range of listeners throughout the world.  This is an ongoing process.
Show support to other Cyberjamz shows. We are a family and should want to support one another's success.
What if I can't make my scheduled show time?
If, for any reason, you are unable to do your show, please send an email message to contacthousecat@gmail.com AND sammyrock@mail.com.
Emergencies happen, but if you know ahead of time, please alert us at your earliest convenience so that we can attempt to schedule another programmer in your place. It is your show, and you should first make an attempt to find a replacement to cover your slot, especially when you know in advance that you cannot make your scheduled show. Communicate any changes or concerns you have regarding coverage of your slot.
Your show should start and end promptly, unless approved ahead of time.
If after 3 failures to notify us by email, phone, text or facebook etc. that you are unable to do your show, your slot will be forfeited. In addition, failure to adhere to any of the guidelines provided to you,could also be just cause for your slot to be removed. These guidelines were put into place to assist all of us in making it easier to do what we like, and that is to bring the best music and quality shows to the listeners.
Cyberjamz Radio also deserves the right to remove your show from the lineup, if there  is a known prolonged technical issue, i.e internet connection, problems with hardware, sound card etc.  Once you have discovered a technical issue that prevents you from airing your show, it is your responsibility to provide a status as to when your show can/or will return. We will not be able to hold your slot for an extended amount of time without a firm return date.
PLEASE do not post on social networks that your show is canceled. Listeners interpret that message as "I am not playing so don't bother even going to the site" If you informed us that you will not be able to do your show, especially ahead of time, we will make every effort to cover your show. We want to keep listeners tuned in EVEN when you are not able to play.
If you have any additional questions or concerns, please use the contact information above.
Catherine Harris Rowell
VP Manager of Cyberjamz Operations