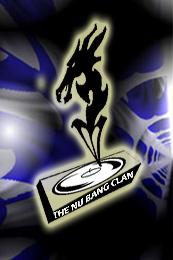 The NuBang Clan – Reborn !! As a member of the NuBang Clan (Worldwide Dj's,Producers and Artist) ,I would like to re-introduce,re-commit and acknowledge one of the first underground house music organizations born in Chicago and now representing all over the world.It's time for the NuBang Clan to Unite and Make us once again the driving force behind our talents !
Thank you for making me a part of something special as we all continue and recommit to making things happen for 2012 and 2013 !
About us:
Read More !! http://www.nubangclan.com/aboutus.html
Nu Bang Celebrates Our 10-Year Anniversary!!!
In April, 2001, Chicago witnessed the birth of the Nu Bang Clan. As I look back on
the past decade of our existence, I am truly amazed and humbled at the
accomplishments we have been able to achieve. What started out as 10 Chicago
DJs has grown into a world-wide network of DJs, producers, promoters,
musicians and event sponsors. We have truly expanded our reach far and wide to
places we could have never imagined.
As an international entity, we have placed ourselves in a position to have a global
impact. From the US to Canada to the UK to Japan, the members of the Nu Bang
Collective are making their mark in the music industry. Whether it's DJing,
producing, promoting, teaching, or just providing a social outlet, NBC seems to
have a hand in a lot of pots stirring up some action.
Looking toward the future, we also recognize that change is inevitable. Some who
were with us in the beginning have since moved on to other aspects of life, while
some have chosen to pursue individual paths of their own. While they may have
moved on, new members have taken up the charge. These new members will be
the future of NBC, carrying on what the "Original 10″ started, which is to continue
to "Bang da Nu"!!!
Happy 10-Year Anniversary Nu Bang, may you continue for many more!!!
Greg Gray
"Sensei Melei"