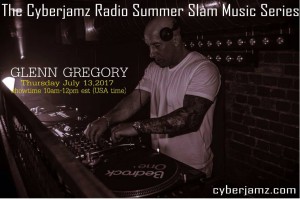 If you missed The Cyberjamz Radio Summer Slam Music Series with Cyberjamz / Toupee Records producer Glenn Gregory which aired a few weeks ago.. then check out the Podcast.
stream or download http://souloasis.cyberjamz.com/?p=3852
Pick up his debut remixes of Walk With Him (Glenn Gregory Remixes)
Mona Bode' – Cyberjamz Recrds out now http://bit.ly/2uRnWJD
**no playlist for this set
Cyberjamz Records is proud to welcome another dope producer to your already slew of awesome music programmers and producers on all of our labels.
Glenn Gregory is that diamond in the ruff in that in order to find him..he needs to find you first and in this case that is exactly what happened.He came to us along-side our spoken-word artist Mona Bode' with a hot latin flava remixes of "Walk with Him", a deep spoken-word piece delivered perfectly by Mona.Also in the works is a wonderful release to be coming soon entitled "Beautiful" ,a lovely soulful vocal house cut that will take you where you wanna go on the dance floor.
Really looking forward to more of this producer in the very near future.In the meantime enjoy "Walk with Him" (The Glenn Gregory Remixes) feat. Mona Bode coming soon to Cyberjamz Records.
producer bookings and info contact: