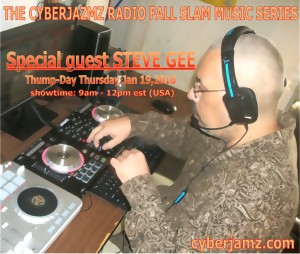 The Cyberjamz Radio Fall Slam Music Series has jumped off banging for this 2017 Season.This coming Thump-Day Thursday goes off the deep end with guest deejay Steve Gee and is without exception as he is about to showcase his musical talents and selections for our enjoyment. If time permits please take a moment to check in and check us out !!
We would also like to thank Steve Gee and all past and present featured guest as they all have bought and continue to bring their "A" game to our Award Winning on-line house music station since 2003.
This show come on Thursday Jan 19,2017 from 10am – 12pm est.
http://cyberjamz.com
Short bio and info
Music has been my enture life since I could walk, I started dj'ing in 1975 ( well a student) and got going from there, then I started doing small Parties and Park Jams.I had my own Crew at the time and we did well. But then I went solo and did my own thing. I DJ'd at WBAU FM in Garden City doing a Guest spot here and there at Pier 14 and a few other places around the country.I've also respresentd in Arizona at the Paisley Violin which further allowed me to showcase my talents.
But now here I am at CyberJamz Radio, So Let's Get it in !!