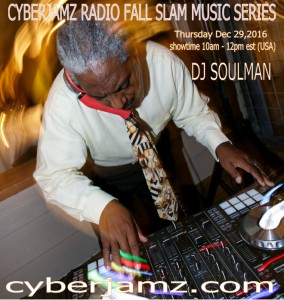 The Cyberjamz Radio Fall Slam Music Series returns with Special guest Nick Cathey – Dj Souilman !!
Dj Soulman returns to our home to rock your body tomorrow Thump-Day Thursday from 10am – 12pm est (USA) time. We truly hope you can take a moment and tune in for what is our last Fall Slam Show of 2016.
We had a great season featuring fantastic talent across the board from artist to music producers,they all represented proper at our site.We hope that In 2017 you can take a moment to check in as we continue serving or musical culture.
If you would like to join the group of guest dj's we feature at Cyberjamz Internet Radio please contacthousecat@gmail.com for info and again Thank You to all that participated in 2016.
SammyRock & Catherine Harris Rowell
http://cyberjamz.com