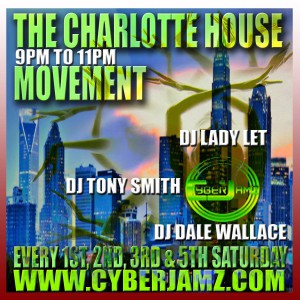 The Charlotte House Movement, airs 1st through 3rd & 5th Saturdays, 9pm-11pm EST
The Charlotte House Movement is Djs- LadyLet, Dale Wallace, and Tony Smith. The Charlotte House Movement was created out of their love for House Music, and a desire to share this love through a series of events, volunteer efforts and charities in the Charlotte, North Carolina area. The Charlotte House Movement wants to continue to work in collaboration with other djs, producers and activists in spreading their message of unity through the music.
BIO(s)
DJLadyLet originally from Queens, NY has been on the scene since 1999, her djing career began with basement parties, since then she has been active in the Charlotte, NC mobile dj scene.
Social media links:
https://www.instagram.com/djladylet
https://www.facebook.com/DJayLet007
https://twitter.com/djlet007
Dale Wallace originally from Baltimore, Maryland began djing with a group of neighborhood friends. In high school, he and his fraternity Bro Phi Bro dj'd many of the parties, during the disco era. He then ventured to Baltimore club, O'Dells where he experienced House music for the first time, hearing Dj Wayne Davis play. Dale later went on to play at the DC Metro Club; is one of the founding members of Freaknic, Atlanta, GA and one of the first Djs at Club 112 in Atlanta. Dales love for House Music has taken him to several clubs from Chicago to New York and NJ to hear some of the hottest djs in the business. Dale brings his talent, history and love for House Music to Charlotte, NC where he has already begun his musical journey.
Social media links:
https://www.facebook.com/dale.wallace.967?fref=ts
Tony Smith aka Tony Essence born and raised in Harlem, NY. Studied Communications at Alcorn State University, here is where Tony's House journey began. Tony dj'd at college events, club spots, and built his skills as a dj, along with sharing his love for House music. Tony took a break from djing, to focus on family. But along with DJ Dale Wallace and DJ Lady Let, The Charlotte House Movement was born, with a focus on bringing djs, producers and community together and helping to develop a strong House Movement in the Charlotte, NC area.
Social media links:
Tonyessence2015@Instagram.com
https://Tony Smith(The Charlotte House Movement)@facebook.com.
Phone# 920-543-3580