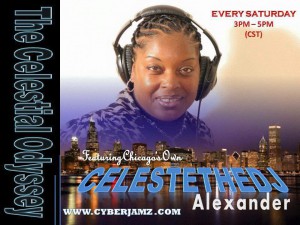 Celeste Alexander returns to our weekly line – up with the hot Celestial Odyssey ,Saturday's from 4 – 6pm est. Stop by and experience why this music programmer is one of Chicago's top of the line  female deejay's in our music industry.
Bio & Info
Celeste Alexander knows what it means to dare to do more… A wife, a mother, a DJ and label co-owner, Celeste manages to balance these responsibilities while delivering and creating some of the deepest, soulful, mixes In today's house music landscape.
In 1982 Celeste was introduced to DJing by the legendary Steve "Silk" Hurley. During that time dance music was being shaped into a culture and genre' that is now known world- wide as house music. Celeste was learning her craft with the likes of such names in the industry as: Terry Hunter, Maurice Joshua, Ron Carroll, Ron Trent, Vick Lavender, Mike Dunn and Gene Hunt. Along with other DJ's and producers from the Chicago area that have grown to giants in the industry, Celeste was the daring female in an otherwise male dominated industry that was holding her own and making a name for herself in the Chicago music scene. She remains the only female who has played with the late Ron Hardy, the legend himself in his home "The Music Box".
Debunking the myth that mixing was gender specific, was Celeste's motivation to continue to play. Through the mentorship of such iconic DJs as Frankie Knuckles and Andre Hatchett, and the unwavering support of such noted DJs as Ron Hardy and Wayne Williams, Celeste has and continues to be a force to be reckoned with.  Celeste left the scene for about 10 years returning in 2006 with the desire to again be a part of the culture she left. She fell in love with how house music had progressed and wanted more than ever to play again.  Offered an opportunity to have her own internet radio show on Cyberjamz.com in 2007, was the springboard to giving Celeste a world- wide platform to express herself. After 5 years on Cyberjamz, and a 1 year absence she will make her return to the airwaves and her Cyberjamz family. In 2013 "The Celestial Odyssey" will again take its rightful place among one of the top internet radio shows on the air.
Celeste has had the opportunity to play in clubs in various cities including, Miami, New York, New Jersey, Atlanta and Detroit. She has shared the decks with names like Jihad Muhammad, Lou Gorbea, Ray Vazquez, and Vick Lavender among others.  Celeste was the first female to play the world's largest one day event in house music, known as The Chosen Few Picnic.  In 2009 she joined forces with Vick Lavender and Steven Stewart to become co-owner of Sophisticado Recordings, which is now one of today's most quality labels in the industry.  To her credit she has released several tracks under the Sophisticado name. In 2009 "Nasty Bitch" her collaboration with the legendary Terry Hunter hit top ten on the charts. In 2013 she joined forces with BlondBabe Promotions. Under this management she has successfully maintained a monthly residency at Chicago's Underground Wonder Bar. "An Evening with The Lady of House" has quickly become one of the best experiences of music and dance on the Chicago House Scene.  Staying true to her craft and shattering stereotypes still remains Celeste motivation and dedication to an industry that is far more main stream than many give credit to. 30 years ago, while other women were watching the game, Celestethedj Alexander dared to step into the game.
"When I first started playing public I would wear baggy clothes and a baseball cap so the people wouldn't know it was a female playing. After I got them dancing I would take off the sweat shirt, and baseball cap so they could see that they were dancing to a female playing. I love the shock factor!"