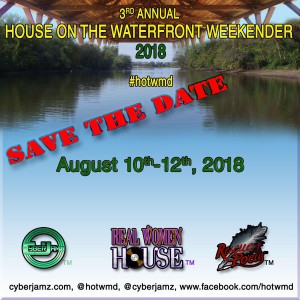 Rolling it back a tad with House on the Waterfront Weekender at Bladensburg Park 2017 in MD USA. with SammyRock & DjHousecat(la gata de fuego).
Next year we predict will be right where it need to be…. in the hands of lovers of music and dancers all across county lines. We still couldn't believe how many folks came through from Baltimore and surrounding area's to a few coming in from out of town.It was a humbling experience as it was only our second year doing it.
The collaboration of myself SammyRock and Cyberjamz Radio/Records with my partner Catherine Harris Rowell of Real Women House ,Cyberjamz Radio /Toupee Records along side Rescue Poetix (Just add Sound) joined forces to bring to you three day party event of which the artist and music programmers featured brought their "A" game to the ring which generated interest by many in our industry to participate in 2018.A Special thank you to all of our volunteers who made our job easier to host.
Thank you to all that made it happen.
It's time to start Saving the Dates from Aug 10th thru Aug 12,2018 have been up as we will be revealing our line-up & performers very soon.It's shaping up to be another one for the books !
event page ,pictures and video's of last year posted https://www.facebook.com/hotwmd/
**Pictures and videos by Sybil Gaines ,Jamal Harris ,James Posey ,Wesley Wesley T. Vann ,Angel Thomas & many more!
hashtag it #HOTWMD">#HOTWMD