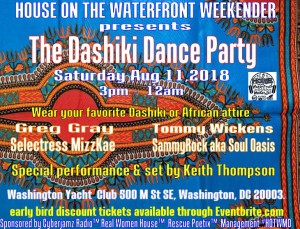 The 3rd Annual House on the Waterfront™ 2018 is going to be off the freekin HOOK ! (God Willing). Saturday Aug 11,2018 at Washington Yact Club 1500 M St SE,Washington, DC
Join us for Day 2 of the House on the Waterfront Weekender as we present the Dashiki Dance Party!
Wear your favorite dashiki or African attire, as we celebrate our royalty through dance! Event time is from 3pm – 12am We are proud to feature Cyberjamz Radio djs Selectress Mizz Kae, Tommy Wickens (A.Plane) of First Responders of House, Greg Gray of The Nu Bang Clan, and Sammy Rock aka Soul Oasis. Featured performance and set by Keith Thompson.
Early bird ticket pricing of $15 until Monday, July 16. This is a ticketed event. So Purchase your advanced tickets TODAY!! at eventbrite – https://bit.ly/2Kcou9 Advanced registration is also required to attend. If you are interested in paper tickets, please contacthouseonthewaterfrontmd@gmail.com SUBJECT: Dashiki Dance party printed tickets
Washington Yacht. Club 1500 M St SE,Washington, DC 20003
Sponsored by Cyberjamz Radio™ Real Women House™ Rescue Poetix™ Management #hotwmd
**Public Announcement**
All our out of town guests who plan to attend the House on the Waterfront Weekender, Friday Aug 10th thru Sunday Aug 12th 2018 or beyond that day and you need hotel accommodations get at us as soon as possible so we can lock in a secured room for you or your guest coming down with you.We want to make sure we still need them availiable for these dates.. If you are in need of accommodations please send us a message on here or email:
contacthousecat@gmail.com
sammyrock@mail.com
Event page: https://www.facebook.com/events/478142765947749/
Follow us today
http://www.instagram.com/hotwmd/
hash taggit at #HOTWMD
Stay connected https://www.facebook.com/events/718524428350721/?event_time_id=718525218350642
Follow us on instagram
https://www.instagram.com/cyberjamz
Sponsored by Cyberjamz Radio™/Real Woman House™/Rescue Poetix™ Management