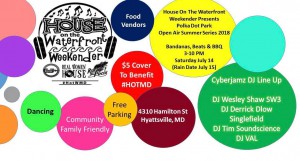 Pre-House on the Waterfront Weekender™ at Polka Dot Park in Maryland USA Sat July 14,2018 feat theme: Bandanas Beats and Barbeque! This event concludes our Polka Dot Open Air Music Series™, so we have to close it out with a bang! Wear your favorite bandana, bring your whistles, tambourines as we groove to some of the best in house, r and b, disco you name it! Party time is from 3pm – 10pm
Bringing the Beats are djs Wesley Shaw(Sw3), Derrick DLow Singlefield, Tim Soundscience and Dj Val! We are warning you now get prepared for a beat down !
#HOTWMD favorite vendor, Shorty's Catering!
Wine Vendor, Custom Canna and a few more vendors to be added.
* Parking is Free however there is a $5 entry fee which goes towards our #HOTWMD event in August.
Polka Dot Park is located at 4310 Hamilton St. in Hyattsville, Maryland. Bring a friend and tell a friend! Limited seating available so bring your chair, or canopy it's gets hot, favorite beverage/ food and spend the day with us! This is a BYOB affair ! House music in Hyattsville its a good look! RAIN DATE: Sunday July 15th.
Sponsored by Cyberjamz Radio/Real Woman House/Rescue Poetix Management and Urban Investment Partners.
#HotWMD is delighted to add @polkadotparkpopup events to our 2018 schedule of events. #savethedates More details are coming!!
@cyberjamz @lagatadefuego @rescuepoetix #hyattsvillemd #housemusic #openair #foodtrucks #djs #music
Page and info:
https://www.facebook.com/events/1718043304942303/