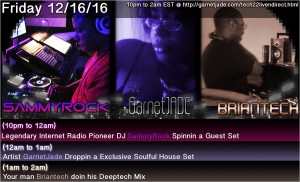 Special SammyRock aka Soul Oasis Special guest Mix going down tomorrow night Friday Dec 16,2016 from 10pm = 12am est at Tech22 Live Radio
Big ups to Brian Nance for the love ! So to my Cyberjamz Radio Family. I expect to see some of yall in the chat room. http://bit.ly/2hzDtIH
[img]http://souloasis.cyberjamz.com/wp-content/uploads/2016/12/flyer-1-300×182.jpg[/img]
This here is an extended Special guest Mix I did for Brian Nance and the Tech22 Live Radio. Hope you enjoy this set as much as we did in the chat room.This set has an additional 30 min tagged on to it which also aired at Cyberjamz Radio Headquarterz.
Big thanks to BrianTech and the entire crew for having me on.
Stream or download guestSoulCAST here: http://bit.ly/2hoBkio
The guest Soulist:
1)I'm leaving – Keys N Stuff feat.Blax – http://bit.ly/2gDRwif
2)Your access is no denied – Seductive Sapphire – Dj Phantom Main Mix coming soon Toupee – Sheila Johnson Walter Phant Ellison
3)Brian Nance EP coming soon to Toupee
4)I am Love with Swazi Dance – Two Of A Kind vs. Wesya Dya – A Soul-Cat Edit – http://bit.ly/2h8t9tK
5)unknown Black Man – Soul Oasis accapella Edit http://bit.ly/1hE4Ekf
6)Fly Me Away- Vanna Vee – http://bit.ly/2gpY15b
7)Tap2 – Rescue Poetix – D4-Deep-Sounds-So-Easy-Remix – http://bit.ly/2fXv84d
8)Naked Soul – Vanessa L. Smith (Pistol Pete Sierra Original Vocal Mix) Cyberjamz – http://bit.ly/2fW0PJN
9)Brian McKnight-Love Of My Life (Doc D House Mix) – http://bit.ly/2fiNqsO Doc Diesel & Anthony Tones Pabon
10)Butt Ho Preacher – Brian Nance / Briantechz Flame Hurt Mix coming soon to Cyberjamz
11)UMI – Timmy R and Adam Rios Remix – Soul Oasis Edit
12)Cuz I Know Now- DJ Romain Gowe & The Playerz – http://bit.ly/2gRneGp
13)Cafe Praque – Groovejuice vs. Rescue Poetix – A Soul Oasis Edit – http://bit.ly/2g0FIlQ
14)unknown at this time
15)Look me up – Blue Magic – Dj Punch Afro Remix coming soon Cyberjamz
Eye of the Beholder – RescuePoetix – accapella
16)Smile – Angela Winbush – Dj Punch & Naeem Johnson (2 Kings Remix) coming soon Cyberjamz
17)Ceila's Groove – Soul Slayerz – Soul Oasis Edit – http://bit.ly/2gWrRSt Tayo Wink & Hakeem Syrbram Mikki Afflick
18)Mezcla (Tayo Wink Barrio Culebra Beats Mix) coming soon to Cyberjamz/Toupee
19)Ponte El Sombreo en Cuba – Miami Band vs. Gibson Bros. – A SoulCat Salsarengue Edit
20)Release the Tenstion – Colonel Abrams (Zanzabar Remix) Dj Punch (R.I.P) Colonelabrams Abrams
21)The Closer I get to U – Roberta Flack With Donny Hathaway – Da Hit Makers Remix – Djtsmooth Farrar
22)Where were U – Dj Punch Congo Remix – Blackout E.P – http://bit.ly/2gDGhUv
23hWah-Dreaming of Equator(Original Mix) – 71 Deep E.P Cyberjamz – http://bit.ly/2gjWwJT – Håvard Kvangarsnes
Closing pitch change track and thank you
24)It ain't no big Thing – Donna McGhee – Soul Oasis Klassic Edit.
Check out the House of Soul every Monday from 9am – 2pm est with SammyRock aka Soul Oasis & Catherine Harris Rowell DjHousecat(la gata de fuego)
at http://cyberjamz.com
Bookings and info contact sammyrock@mail.com or contacthousecat@gmail.com