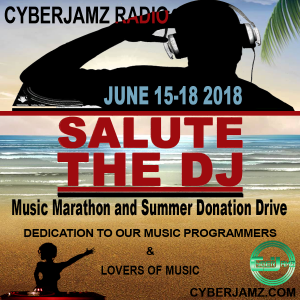 The Cyberjamz Radio Salute the Dj Music Marathon & Server Donation Drive 2018. The madness jumps off Friday morning June 15th with LVS (Lady Vintage Soul) and ends Monday June 18th at 2pm est with The House of Soul (SammyRock & DJHousecat(la gata de fuego).
We hope you guys can join us as we "Salute the Dj's" of Cyberjamz Internet Radio (since 2003) and celebrate all the Djs of the World.We are also squeezing in our Server Donation Drive of which any amount is acceptable. If you love what we do and continue to do for our musical culture we are asking for a donation of any size to help us remain on your computer dial.All donations go towards the up keeping of the site,any upgrades and for bandwidth of which is the bulk of where our money donated is spent.
**All donations are via paypal to samuelacosta@hotmail.com
Subject line: Cyberjamz Server Donation 2018.
If you prefer to send in a check or money order please email me at sammyrock@mail.com or contacthousecat@gmail.com for physical address to mail in your pledge.
Thank you all from the bottom of our hearts.
C.E.O/Founder Sammy Rock
V.P Catherine Harris Rowell
The Cyber-Team (Sheila Johnson & Mark Mcaden)
Cyberjamz Radio has been serving our music community and culture on-line since 2003. I want to thank you ,the lovers of music,our sponsors and especially our music programmers for taking time off their schedule to bring to you the very best in house music and other genres. ANYTHING goes at the headquarterz. A semi – line-up posted below , as we are still filling in slots. Please support our music programmers and music !!
Lineup & Info:
FRIDAY JUNE 15TH
9AM-11AM Lady Vintage Soul – Classics and more
11AM-1PM Cordell Johnson 63rd & Soul
1PM-3PM Mark McMaden – The SoulfulOne
3PM-5PM Hakeem Syrbram pres The Keemix Show
5PM-7PM Andrew Waite – Raw Sessions
7PM-9PM David Shell – The Ride
9PM-11PM Sons of Soul (Dj Mack & Demaan)
11PM-1AM
SATURDAY JUNE 16TH
8AM -10AM
10AM-12PM First Responders of House (Dj Kture & Tommy Wikens/A.Plane)
12PM – 2PM Val McEwen – The BK Show
2PM-4PM Greg Gray – NuBang Clan Sessions
4PM-6PM Blayne Ashmore – Feelin it !!!
6PM-8PM Dance of Distinction/Sapphire – The Showcase
8PM-10PM Ab Seven (AB7) – Soul Stoned House
10PM-12AM – Todd Love pres The Saturday Night Windown (Marathon Special)
12AM-2 AM SUNDAY JUNE 17TH
7AM-9AM Jorge G – The Curious Jorge Show
9AM-11AM
11AM-1PM
1PM-3PM Gran Groove's House – Dj Granny
3PM-5PM Michael Stukes – Mystic Vibrations
5PM-7PM
7PM-9PM Delmar Browne – The BK Basement
9PM-11PM
Monday June 18th 2018 is our Finale.
The House of Soul – SammyRock and DjHousecat(la gata de fuego)
Chat Room – No Registration Needed
http://bit.ly/1hV3WZl
Direct link to live stream – Channel 1
http://cyberjamz.com/live.asx
Android and more – Tune in On-Line or Mobile
http://bit.ly/1tX09DY
Cyber-Sponsors
http://bit.ly/18lqh3R
all shows are sponsored by:
Real Women House™ – Catherine Harris Rowell
House on the Waterfront™ #hotwmd
Rescue Poetix™ Management
MsNeicy Leonetta Who you Rocking With? Music Group – http://bit.ly/2rRwaVC
Blayne Ashmore Feelin it Entertainment at http://bit.ly/1V70fYg
Jorge Garcia Graphix & Design
Follow us on instagram
https://www.instagram.com/cyberjamz