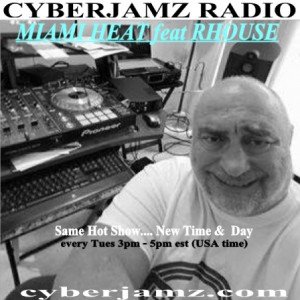 Rhouse pres: Miami Heat life from Miami Florida every Thursday 7pm – 9pm est
This show is one of the hottest shows on Thursday at our site in that Robert Shorthouse (RHOUSE) has been in the game for the last 40+ years making him one of our oldest but youngest at heart when it comes to spinning new music. He lays it all in Thursday Nights ,so if time permits check in and find out why experience matters.
Rhouse Bio:
I grew up in the eastern suburbs of Pittsburgh listening to soul music and underground dance music – what some folks may know as, "Northern Soul".
I began collecting this type music in my late teens and like many of my friends, I wanted a chance to drive the dance floor. In a stroke of good luck, I was able to land a spot in 1968 at one of the top dance clubs, the White Elephant.
I was fortunate to maintain this residency through many iterations of the location when in the mid 70's under the name 2002, we began to play disco music.
At first, I did not mix records. My philosophy to hold the dance floor always was the right record at the right time. I clearly remember the first mix that I tried. It was Dance to the Music to Dance a la Music(French) to M'Lady. This was the early 70s and my mixes were limited because I did not have a mixer – just a switch and tape on the record for cue points. I got better in the 70's when I got to NYC during a Billboard DJ convention and heard what the DJ's where doing with their blends.
I worked a few clubs once I left 2002 in 1977 when I landed another residency at The Happy Landing which was in downtown Pittsburgh. I worked this location until it's closing in 1982 when I temporarily retired to focus on my business life.
The Happy Landing was an amazing club. It was like an LA type club with an East Coast vibe. – High Fashion, but everyone was welcome (straight, gay black, white) to groove to the soul disco music I favored.
My retired lasted over 10 years until by like I heard a program on Sirius radio played by Chicago DJ, Tony Cano. Predictably, I again got the bug because of his amazing Soulful House program. This excitement led to my again collecting all the soul dance music I could find.
In the early 2000's Dance music radio moved to the internet where freedom of expression for each programmer was encouraged and respected. Luckily, I landed a slot on Pre-party radio.com. We played at several more stations before finally getting a plum spot on Cyberjamz.com.
I continue my spot on Cyberjamz.com as well as on a promising new station from London, Housebeatsradiostation.com In summary, the joy of my life has been sharing soulful dance music with people.
Facebook contact:
http://bit.ly/2AxxkVu
Promotions and Bookings Contact Rhouse: lemaison123@msn.com