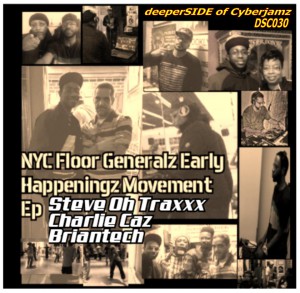 Slammin Release Alert: NYC Floor Generalz E.P.(Vol #1) Steve Oh Traxx , Charlie Caz & Briantech ( Brian E Nance )
WOW.!! what a slamming collection of music producers and tracks offered in this NYC Floor Generalz E.P Vol 1 coming soon to deeperSIDE of Cyberjamz. These are some extraordinary dancefloor cuts by Steve OH Traxx who bought the house down and proudly showcased with his dope "Afrodeep 2018 cut followed by "Faded" (up all night) ," Rhythm iz my Bizness" a deep house ride. Also included is one of my favorite kutts in "This is MY House" & rolling it back with "In the Jungle". The madness of this package continues with amazing afro tech pieces by both Charlie Caz & Briantech both delivering exceptional tracks for that hardcore tech deejay and dancers in "BX Deep" , "Do ya keep Going" (another favorite of mine) and finally "Advanced Deep Dweelingz" of which Brian E Nance goes off on the keyboard. SICK !!!
What I truly love about this package is the many musical flavors covered and each piece are unique in both sound and production. Great work all-around ! Looking forward to Vol #2 coming at the end of November 2018
produced by Briantech.Steve Oh Traxx and Charlie Caz
**Keep your ear to the ground for Vol#2,which is slamming too !
Another SoulCat Joint 2018.