To install the cyberJAMZ player on your PC, make sure you have the SilverLight plugin installed. Then follow these simple instructions:
1. Right Click on the cyberJAMZ player to reveal the install menu: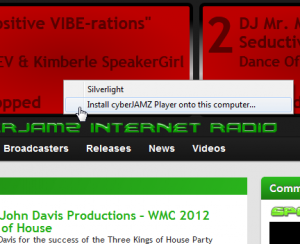 2. Now you'll get a warning window because we have not yet purchased an identity certificate. Simply click the "install" button:
3. Your player is immediately installed on your computer to run outside the browser and a shortcut is installed on your desktop to fire up cyberJAMZ without even opening your browser. Enjoy!