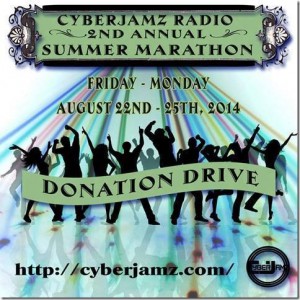 As CyberJamz celebrates 10 years of providing the community with an eclectic lineup of music lovers who share their passion with the world, we reach out to the community to help keep the station free from subscription fees so that we can all continue to do what we love.
Built for the community, by the community, CyberJamz  Radio  Summer Marathon Donation Drive is designed to open the door for those who want to give back by donating to keep the server, website and organizational services running smoothly.  It takes a minute to share the love, send what you can, show your appreciation for one another.  In return, Cyberjamz will be sending out Free Promos to those generous music lovers. If you are unable to donate, share the link and info. This is a family effort, so thank you Family!
To donate via Paypal: samuelacosta@hotmail.com
FRIDAYS LINEUP
8am -10am Lady Vintage Soul, Vintage Express
10am-12pm Cordell Johnson, 63rd and Soul
12pm-2pm LeonC, Psychadelic Shack
2pm-4pm Rhouse, Miami Heat
4pm-6pm Hakeem Syrbram, Soulful House Keemix Show
6pm-8pm Franke Estevez, Fuzion
8pm-10pm Dave Shell, The Ride
10pm-12 midnight  DJVAL, The BK Show
Saturday
12midnight -2am Steve Bass, Mixing it Up
2am-4am   Greg Gray, Nu Bang Sessions
4am-6am James Vincent, Sound Gallery Sessions
6am-8am Dj Qwest, Qwest Spot  
8am-10am T-Wise, Ubiquity Soul
10am-12noon  Hippie Torrales, What is Hip?
12pm-2pm  Dj Kture,T Wickens, D Clark,  First Responders of House
2pm-4pm Dj Todd Love, Soulful Temptations
4pm-6pm Blayne Ashmore, Feeling It
6pm-8pm Michael Menton, Dance of Distinction Showcase w/Seductive Sapphire
8pm-10pm Wil Milton, Milton Music Café
10pm-12midnight Tony Mack and Demann , Sons of Soul
Sunday Lineup
12am-2am Dj Eddie Ed, Eds House
2am-4am Dj Rocky Floyd, House Grooves
4am-6am Mike Touhey & Lee Jackson, The Underground Network UK
6am- 8am TBA, Special guest
8am-10am  Jorge G, The Curious Jorge Show
10am-12pm Barrie McFarlane
12pm-2pm  Donna Edwards
2pm-4pm Will Gee, Umoja
4pm-6pm Dj Holiday, Deep City Sessions
6pm-8pm Al Smith, Soul Sessions
8pm-10pm  Pistol Pete, Housemares on Gold Street.
10pm-12midnight, Tier Ra Nichi, The Deep
Mondays Lineup
12am-2am, Dj Algebra, Gettin Housed
2am-4am TBA, Special guest
4am-7am TBA, Special guest
7am- 9am Phil Hooten,  Another Way to Pray
9am-2pm Sammy Rock (Soul Oasis), Housecat, (La gata de fuego), House of Soul
2pm-11pm Regularly scheduled programming will begin after the marathon