House on the Waterfront Weekender 2018 is honored to feature Dj/Producers, Damond Ramsey and Sahib Muhammad at our finale event. This duo has had a longstanding music relationship producing tracks for our Cyberjamz/Toupee Records label, so we are pleased to include them in this year's festivities!
The 3rd Annual House on the Waterfront Weekender #HOTWMD, will be held Friday August 10th through Sunday, August 12th, 2018. Events take place in the DC/MD area with the finale at Bladensburg Waterfront Park, Bladensburg, MD.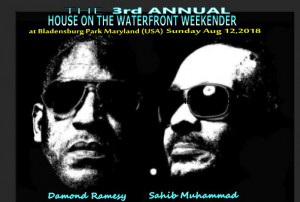 DAMOND RAMSEY
Born in Baltimore, MD, Damond has been a mobile and club dj since the 80s. He has been influenced by legendary djs, Thommy Davis, Wayne Davis, Teddy Douglas, Dj Spen, and Kenneth Johnston to name a few. Damond now works with Quantize Recordings under the mentoring of Dj Spen and Thommy Davis. Damond also has releases on Nervous Records, Code Red, and now Cyberjamz Records. You can hear Damond every Saturday 3-5pm on HandzonRadio.fm "I do this for the love." Damond has started a party, titled "The Art of House" which incorporates the diversity of the house music scene. Damond has partnered with friend, Sahib Muhammad to work on future projects. You can find more information on what Damond is doing through his Facebook page, djdamondramsey.
SAHIB MUHAMMAD
DJ turned music producer, Newark NJ native Sahib Muhammad, started spinning Disco and transitioned to House. Classic songs like "House Music" by Marshall Jefferson, and "Sleazy People" by Soft Cell, inspired him to remix and produce.
In December of 2012, his track "Getting to Know You" was released. Soon after, Sahib's mega hit "No Set Beat" broke through and hit the masses. This caused "No Set Beat" to be released 6 more times! Sahib has remained constant by producing one gem after another for Quantize and
Unquantized Recordings. Currently, Sahib is know for the Anne Nesby track, "I Feel" and "It's a Man's World".
In-between his official releases, Sahib shares his mixing skills on Soundcloud and Mixcloud.
https://soundcloud.com/sahib-muhammad https://www.mixcloud.com/SAHIBMUHAMMAD http://www.traxsource.com/search?term=Sahib+Muhammad
Join our fan and info page & view the pictures and videos of last year's event at http://www.facebook.com/events/7185
24428350721
Sponsored by House on the Waterfront Weekender™ / Cyberjamz Radio & Records / Real Women House™ / Rescue Poetix™ Management.