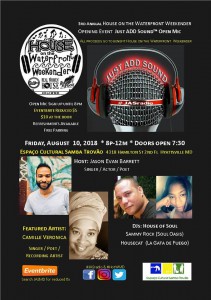 Day 1 opening event 2018 House on the Waterfront Weekender: Just ADD Sound Open Mic
#HotWMD kick things off with Just Add Sound™ Open Mic with Host: Jason Evan Barrett, featured artist Camille Veronica and DJs: House of Soul: Sammy Rock (Soul Oasis) and Housecat (La Gata de Fuego).
Advance Reduced Entry – Limited seating – No Refunds * $5 advance $10 at door * Light Refreshments Available,get your tickets at https://bit.ly/2zmz3l6
This collaboration taps into the DMV area for artists and encourages local poets/spoken word artists to participate in the open mic segment.
Open Mic Participants 5-7 minutes
Time permitting: 2nd round possible
Showtime 8:00 pm-the last performer drops the mic (figuratively speaking)
Focus is to celebrate the diversity of the performing artistic community. All art forms welcome. This is a Family Friendly Event (please keep it PG13 if minors are present). Adult content welcome at the host's discretion.
ABOUT OUR HOST
Jason Evan Barrett is excited to take the stage again, sharing his talents with the poetry community. A singer, an actor, a Washington, DC area native and a graduate of Morehouse college, Jason has performed throughout the DCarea, as well as up and down the east coast. Some of his successful performances include " A Communion With Kings, written by NYC playwright Dyron Holmes, A Raisin in the Sun (Chevy Chase Players), Interrogation Room (Source Theatre), Tamer of Horses (Kuumba Players), The One Act Theater Festival (Silver Spring Stage), Purple Hearts (DCBTF) and the Brave Souls Unplugged show (Warehouse Theater/Baltimore Theater Project).
Jason was invited to Amsterdam to perform at CC Muziekcafe, an up and coming music venue, catering to musicians and artists. His musical talents have taken him on a continued, international journey, sharing his voice in London, Lisbon, Madrid, Barcelona and Mexico City. He's also been a guest singer at Westminster Church for their Friday night jazz nights and Wegmans grocery store in Lanham, where they had live music on the 4th Friday of each month. Stay tuned for the release of Jason's original project , which is TBA and in the making!
IG: @cafejason
Linked In: https://www.linkedin.com/in/jason-evan-barrett-b6157157
ABOUT OUR FEATURED ARTIST
Spoken Word Artist and Musician, Camille Veronica is a native of Flint, MI and currently lives in South Florida where she continues to explore what she views as the necessary connection between life and the arts.
She began writing early in life and started seriously focusing on poetry in 1990. Eventually the pull to perform called her and she found her spoken word voice. She approaches poetry from a storyteller point of view. She has performed in various venues in the U.S., England, and Kenya. Camille Veronica has not only performed spoken word but also organized artists to share their talent in non-traditional venues. She self-published Potluck Poetry, performed and placed in Poetry Slams in South Florida and toured with an ensemble of poets for the local original production of Female.
Camille Veronica's writing is an extension of her music. An accomplished vocal artist, she loves and appreciates a variety of music genres. Her background is in music education and always finds ways to share and teach the beauty of music. She feels music sets tone, conveys the needs of a people and should catalogue the culture and climate of society. She plays piano for Norland United Methodist Church in Miami Gardens, FL. There she leads the praise and worship band and directs the Youth and Men's choirs.
Camille Veronica is also the owner and designer of 4Diaspora Designs, her online jewelry business where she promotes adorning as a means of self-care. Her work can be found at www.4DiasporaDesigns.com.
Camille Veronica's next venture is cultivating her ongoing interest in becoming a voice-over artist.
Contact: email: reachcamilleveronica@gmail.com
FB: https://www.facebook.com/4CamilleVeronica/
ABOUT OUR DJS: HOUSE OF SOUL
SammyRock aka Soul Oasis founder and owner of The Award Winning CyberJAMZ Internet Radio http://cyberjamz.com
Cyberjamz Internet Radio was established in (2003).This is our 12th year and still going strong."Keepin Housemusic Traditional"
Sammy Rock aka Soul Oasis is a Dj music programer,producer and artist.He is originally from New York City but now relocated to Tampa Florida and has an eclectic sound with varied styles that range from Salsa to Housemusic and everything under the umbrella of music.Sammy Rock also is the owner of a digital record label named Cyberjamz Records which you can find the latest tracks at www.traxsource.com or jundownload.com
SammyRock started in the music business with a Mobile DJ operation in 1980-1988,also started by collecting 45s and albums from his parents at the age of seven years old.He now owns over 30,000 records which Sammy continue to use to make the business work.He has spun muisic for over thirty – five plus years and has entertained thousands of party goers across the globe.In additon he has also played music in various New York City Dance Clubs in the Bronx and have done guest spots at local radio stations in NYC,NJ and Tampa Florida.
Housecat (La Gata de Fuego), originally from Flint Michigan, has been in the Washington DC area since 1987. DJing for 10 years and VP of Operations for Cyberjamz since 2014, she is adept at wearing many hats. With a background in Project Management, holding positions of Label Owner for Toupee Records, Vice President of Cyberjamz Internet Radio, half of the duo that makes up CyberJamz House of Soul and Soul Cat productions both with partner Sammy Rock (CEO) of Cyberjamz Internet Radio and heading the Real Women House Movement has become second nature to her since she's joined CyberJamz in 2011.
Housecat's creativity and the ability to tap into the resources around her have created strong bonds among her peers and artists. Her fierce work ethic and openness to learn with every new challenge she faces make her the very force she admires and resolves to uplift in others.
ABOUT #JASradio (Just ADD Sound)
The vision of Just ADD Sound is to promote established as well as up and coming artists and DJs by providing a performance space to showcase their talents.
Just ADD Sound is an opportunity for an audience to enjoy learning more about artists and participating in a live show. The greater vision of Just ADD Sound is to inspire the global community to let the passion of their ART motivate them to have their voices heard.
ABOUT THE VENUE
Espaço Cultural Samba Trovão – Brazilian Culture, Music and Capoeira Angola's mission is to bring the joy and depth of Brazilian culture, particularly Afro-Brazilian culture to participants young and old.
We are lucky to fall under the leadership of BabaJan, a native of the vibrant city of Salvador, Bahia, Brazil. Baba has been in the Washington DC area since 2004 developing programs, workshops and projects for children, adults and to anyone interested in the African roots of Brazilian culture.
Espaço Cultural Samba Trovão opened in 2017 in downtown Hyattsville, MD. It is a gathering place for people of all ages, and backgrounds. This is a place for fostering community, friendships and cultural ties.
This venue is on the second floor so get your stretches in and expand those lungs for the open mic. Venue has AC so bring the HEAT!