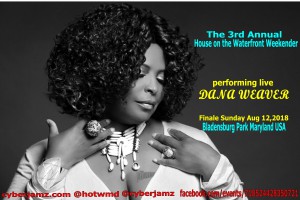 Performing Sunday Aug 12,2018 at Bladensburg Waterfront Park, Bladensburg,Maryland is Soulful House Music artist Dana Weaver !!
The 3rd Annual House on the Waterfront Weekender 2018. #HOTWMD in D.C – Maryland and the surrounding area will take place from Friday Aug 10 to Sunday Aug 12,2018. (The main event is held at Bladensburg Park) on Sunday featuring deejays and artists. The other 2 events held during the weekend, will be announced soon.
If you attended last year.. you know how much fun we had dancing,socializing and just chillin under the sun. Come out and make History with us again!
Join our fan and info page & view the pictures and videos of last year's event at http://www.facebook.com/events/718524428350721
Follow the Party at:
http://www.instagram.com/hotwmd/
Sponsored by House on the Waterfront Weekender™ / Cyberjamz Radio & Records / Real Women House™ / Rescue Poetix™ Management.
Dana Weaver Bio & Info:
Singer ~ Songwriter ~ Musician: This Is Who I am!
Music has always been a constant presence in Dana Weaver's life. At age 4, Dana began training as a classical pianist, completing her last two years of studies at Johns Hopkins Peabody Preparatory, at age 17. Besides being a gifted pianist, Dana is also a vocalist and songwriter/composer…a triple threat! Her voice has been described as "powerful, yet soothing…nothing like I've heard before". Her voice is thick, rich and flows like the sweetest honey. Known for her smooth and sultry delivery, Dana's voice will resonate within your spirit and gently capture your soul. Studying music enabled Dana to hone skills necessary to compose, arrange and produce her music. Her songs have been described as "thought-provoking" and "deep". Dana's jazz-kissed piano melodies and instrumentation can be heard on compositions like 'You' and 'My Inspiration' from the SoulFlow-ah (Soul Flower) album. She yields to her "sultry and sexy" side on songs like 'Understand Me' and 'Calling', which is definitely a crowd pleaser.
During her career, Dana has performed with the Baltimore Symphony Orchestra, the late, Vesta Williams, and has also opened up for songstress, Chrisette Michele. Her experience, talent and passion for music is what drives her, and these same elements have enabled her to work with numerous producers and notable independent labels. Being an extraordinary vocalist, songwriter, and pianist makes Dana a producer's dream. Her musical range and reach is multi-genre, with a catalog that covers Soul, Smooth Jazz, Gospel, House, and beyond. 2018 promises to be another exciting year for Dana, as she looks forward to releasing her first full-length solo album, I Will Arise. The album features fresh, original music, with production by Dana and music visionary, DJ Brian Pope (POJI Records).
There's no doubt that I Will Arise will be just as multi-faceted as her music ability.
You can get to know more about Dana Weaver at:
www.danaweavermakesmusic.com