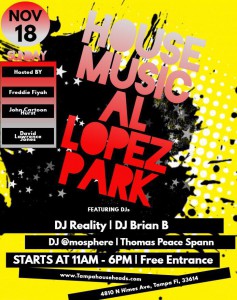 Tampa House Heads United pres: House Music at Al Lopez Park(Tampa Florida) Sunday, November 18,2018
If you or anyone know might be in Tampa or Orlando Florida and surrounding Counties, let them know about this event which will be held at Al Lopez Park in Tampa Florida Sunday Nov.18,2018 going n all day from 11 am to 6 pm. Hot deejays to grace the decks are Dj Reality, Dj Brian B., Dj @mosphere & Thomas "Dj Peace" Spann and did I mentioned it's FREE??
**Keep in mind the weather n November is very very nice.in the high 70's and low 60's in the evening .so come out and have some fun with us. Bring your family, friends, kids pets, chairs, tents, coolers etc. There is an awesome scenic bike route through the park, so bring your bike if you would like to get your daily exercise in as the trails are wonderful.
*Parking is Free
*Food BBQ and drinks will be served & sold
*T-Shirts and merchandise will be available for purchase
*B.Y.O.B
Hosted by Kourt Yard Radio , Frederick Djlock Sullivan (Freddie Fiya) ,David Lawrence Jones & John Cartoon Hurst
Stay connected
https://www.facebook.com/groups/1391823307600405/
http://www.tampahouseheads.com
Al Lopez Park is located at 4810 W.Himes Ave Tampa Florida 33614.