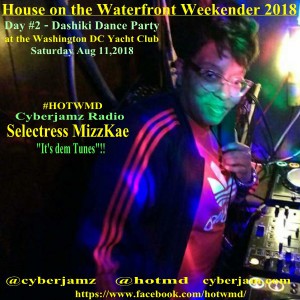 The 3rd Annual House on the Waterfront Weekender Friday Aug 10 – Sunday Aug 12,2018
Day #2 Saturday Aug 11,2018 is the jump off of our first ever Dashiki Dance Party at the Washington DC Yacht Club. Wear your favorite dashiki or African attire as we celebrate our royalty through dance!
We are proud to feature Cyberjamz Radio djs Selectress Mizz Kae, Tommy Wickens (A.Plane) of First Responders of House, Greg Gray of The Nu Bang Clan, and Sammy Rock aka Soul Oasis. Featured performance and set by Keith Thompson
Eventbrite discount tickets will be available soon.
Join our fan and info page so you can stay up to date on all of the House on the Waterfront Weekender Events!
https://www.facebook.com/events/718524428350721/
To view the pictures and videos of last year's
event, check out the group page at
https://www.facebook.com/hotwmd/
Follow us today
http://www.instagram.com/hotwmd/
Find us on Facebook