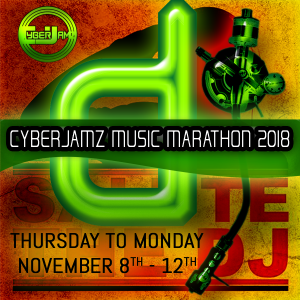 The Official Cyberjamz Radio 15 year Anniversary Music Marathon going down LIVE at our home Thursday, November 08 through Monday, November 12,2018.
If you have never experienced any of our past music marathons at Cyberjamz Radio, then you don't know whatcha missing. This year is going to be extra special as we have added one more day to this on-line event. We are super excited to mention that a few of our past music programmers will be rocking with us on a one-time ode to our site which includes a dope set by 280 West own Mark Mendoza, Duce Martinez of Dwildmusicradio.com and Adam Cruz of the Freedom Hour Show who is one of our original music programmers back circa 2003 – 2009 or more,so mark your calendars and plan to hang out with us even if for a moment.
*All show times are Eastern Standard Time (USA).
The Line-up
THURSDAY NOV 8
9AM-11AM Micheal Stukes
11AM-1PM **Special guest Elbert Phillips (Chicago)
1PM-3PM – Tim Wise (Ubiquity Soul)
3PM-5PM – Will Gee (Umoja)
5PM-7PM **Special guest Duce Martinez (DWILDMUSICRADIO)
7PM-9PM – Randall Montgomery ( ChiNOLA Soul Buffet)
9PM-11PM – Hakeem Syrbram (The Keemix Show)
11PM-1AM – Hippie Torrales (What is Hip)
FRIDAY NOV 9
9AM-11AM LVS (Lady Vintage Soul)-Friday Morning Soul Express
11AM-1PM – Cordell Johnson ( 63rd & Soul)
1PM-3PM – Jackie Jedeye Jaxx ( 3rd Eye Poeticmoves ) & Special Interview with the Legendary Melba Moore
3PM-5PM – Gran Groove (Gran Groove's House)
5pm-7PM – Andrew Waite ( Raw Sessions)
7PM-9PM – David Shell (The Ride)
9PM-11PM – Val McEwen (The BK Show)
11PM-1 AM – Nelson Maldonado (Dj Nelone) (BXBULLIESRADIO Show)
SATURDAY NOV 10
8AM-10AM – Tommy Wickens (A Plane) FROH presents: Bluelight Sessions
10AM-12PM – Greg Gray (Nubang Clan Sessions)
12PM-2PM – Big Gary Logan (Sounds of the City)
2PM-4PM – Todd JamKam McGill (The Sunday Wind down Show)
4PM-6PM – Robert Shorthouse(Rhouse) – Miami Heat w/Special gueat Barry "Moodswing" McFarlane
6PM-8PM – Dance of Distinction Showcase w/Mr.Michael Menton & Sheila Johnson
8PM-10PM – Selek MizzKae ( Lush Vybes)
10PM-12AM – Harry DjGlenn (Underground Fiya Sessions)
12AM-2AM **Open for a Special guest Dj TBA
SUNDAY NOV 11
7AM-9AM – Jorge Garcia (The Curious Jorge Show)
9AM-11AM – Phil Hooton (Another Way to Pray)
11AM-1PM- William Alvarado
1PM-3PM – Musa Smith(The Stretch)
3PM-5PM – Djsteve Bass (Mixin' it up)
5PM- 7PM – Wil Milton (Milton's Music Cafe)
7PM-9PM Delmar Browne (The BK Basement)
9PM-11PM – Abe Ab Seven Rodriguez (Soul Stoned House)
MONDAY NOV 12
9AM – The House of Soul with SammyRock & DjHousecat(la gata de fuego) – Finale
2PM – We return to our regularly scheduled programming
Big thanks to my V.P of CJ Radio/Toupee Records & Real Woman House Catherine Harris Rowell
Management and talent coordinator Rescue Poetix (RPNYC) Management.
Cyber-Team & Sponsors
Sheila Johnson & Mark Mcaden (TheSoulfulOne)
Suprena Millet (Black Cherri Productions)
Jorge Garcia (graphics and design)
Leonetta MsNeicy (Who you rocking with?)
Tarsha Green (promotions)
Real Woman House(sponsor)
House on the Waterfront Weekender #HOTWMD (sponsor)