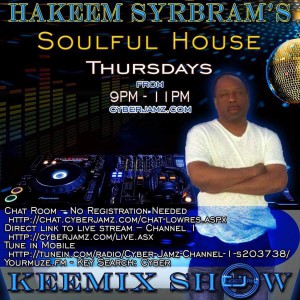 Check in for one of the best shows Cyberjamz Radio has to offer !  Hakeem Syrbram's Soulful House, presents The Keemix Show, Thursdays from  9pm-11pm est (Channel 01)
BIO:
I  have been djing since I was 14 years old , after hearing Rapper's Delight in '79.  I started with Funk and Hip Hop.  My aunts were club music lovers and regulars at the Paradise Garage and Club Zanzibar.  They talked about that music so much I had to hear it.
WBLS, WRKS WKTU and WHBI of NYC radio in the early 80s also inspired me with Club  and hip hop music and remixes. Tom Moulton, Walter Gibbons, Tee Scott,  Shep Pettibone, Tony Humphries and Larry Levan were my introductions to remixes. Even as a young deejay, I have always heard rearrangements of songs in my head. When I played my sets, I always wanted to a give different spin on the current music of the time.
I love all kinds of music but R&B, Jazz and Gospel are my main influences. When I listen to Soulful House, it must have those elements in it. I also love anything with African beats or lush strings. I choose to remix obscure and sometimes popular songs to transform those songs into a danceable house vibe. I want my listeners to feel my music as I do. I am happy that I am gaining more followers and among them are people that I admire in the industry.